Execs Find New Challenges in Internet Market
Monday, March 11, 2002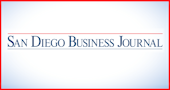 Execs Find New Challenges in Internet Market
Employment: Former Dot-Com CEOs Rise From the Ashes
Tech Talk
by MIKE ALLEN
Senior Staff Writer
San Diego's ongoing tech wreck hasn't stopped two former dot-com CEOs from finding new jobs.

Michael Pousti, formerly of CollegeClub.com, and Steve Mitgang from RealAge.com, have found there is life after working at a dot-com, and it's filled with promise.

"Right now, we're already bigger than CollegeClub was as far as traffic goes. We're adding about 1 million new users a month, and I believe we're the fastest-growing Web site in the world," said Pousti, who founded SMS.ac last year. The name stands for short message service, always connected.

Pousti's latest company enables users to send text messages to mobile phones, regardless of the wireless standard (CDMA, TDMA, or GSM) the phones use.

SMS.ac has already attracted at least one venture investment firm and other private investors, but Pousti declined to provide figures, citing competition concerns. He said about 20 employees are working at an office in University City.

Pousti's CollegeClub.com, a Web portal catering to college students and launched in 1993, had more than 2 million registered users and 300 employees when it filed an $85 million IPO in 2000. But soon after, the Nasdaq plunged, and with it, the company's prospects for survival.

Unable to line up new private investors, CollegeClub filed for bankruptcy later that year and was purchased by its competitor, Boston-based Student Advantage.

Pousti, 35, said he personally lost about $2 million when his earlier firm failed. Venture investors lost another $65 million that was pumped into it.

Despite the well-publicized failure, Pousti said he received lots of encouragement when he began putting together his new enterprise.

The CollegeClub experience taught him some hard lessons.

"This time around, regardless of what anyone says, we're keeping our revenues and costs in line," he said.

SMS.ac is already generating sales and collects money each time a user sends a text message, he said.

Text messaging is the rage in Japan and Europe, where teens and younger people play games and meet each other via their cell phones. Once SMS takes hold here, his company will benefit, he said.

Mitgang, CEO of Keylime Software in Carlsbad, said his company isn't profitable yet, but should be "cash flow positive by the end of the year."

This is Mitgang's second stint as CEO of a tech firm. He held the same job at RealAge, a Web portal dedicated to healthy lifestyles. Before that, he was senior vice president at Sitematic, a local Internet company that helped users design and maintain customized business Web sites. The company was sold to NetObjects, a Silicon Valley firm.

"This is a different technology and a different market, but there are very similar business problems," Mitgang said.

Mitgang, 40, was recruited by Keylime, and replaces Oran Thomas, who founded Keylime in 1997.

Keylime's software allows clients to capture detailed data about visitors to their Web sites and to convert those visits to sales. The 50-person firm markets its products primarily to global corporations including IBM, BankOne, Compaq, Capital One, First USA Corp., Hartford Insurance Co., and Farmers Insurance.

Keylime has attracted about $21 million in venture funding, including investments from Sorrento Ventures, Kline Hawks, and CB Associates.

With 17 years in the tech industry, Mitgang says he's more excited than ever about his current employer.

"We've doubled our revenues in each of the last three years, and we're on pace to double it again this year," Mitgang said, declining to reveal actual sales. "This company has so much to leverage."