Office, Industrial Property Leasing Holding Steady
Monday, June 10, 2002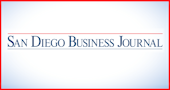 Office, Industrial Property Leasing Holding Steady
KMA Architecture Begins Design Work for Schwartz Federal Building
REAL ESTATE
by Mandy Jackson, Staff Writer
During the first quarter of the year, leasing activity remained steady in San Diego County office and industrial properties, according to San Diego-based Burnham Real Estate Services.

At the end of the first quarter, office vacancy averaged 12.3 percent in San Diego County, unchanged from 2001. Industrial vacancy increased slightly from 8.7 percent at the end of the year to 8.9 percent as of March 31. Vacancy in research and development facilities increased from 11.5 to 12.1 percent.

Burnham also reported a decrease in the amount of sublease space on the market in the first quarter. Sublease space declined 100,000 square feet to 1.9 million square feet.

Also, 145,200 square feet of sublease space that was still occupied and put on the market by companies as a precaution, was taken off the market, according to Burnham.

So far this year, 285,200 square feet of office space has been completed, but 2.9 million square feet is under construction.

During the first quarter, 364,100 square feet of new industrial and R & D; space was completed, but only 1.3 million square feet is under construction.

Mike Philbin, Burnham's managing director of transaction services, observed, "With the national economy still working toward recovery and considering global issues, the fact that there has been little change in the local commercial real estate market points to the relative resilience of San Diego's diversified economic base."

- - -

Updated Design: KMA Architecture & Engineering has begun design work for renovations at the 900,000-square-foot Edward J. Schwartz Federal Building at 880 Front Street in Downtown San Diego.

The contract, valued between $5 million and $9 million, includes replacement of HVAC components, electrical upgrades, ceiling replacement and interior space alterations.

Construction is expected to begin in the fourth quarter of 2002 and last until December 2004.

- - -

Petty Projects: R.G. Petty Construction of San Diego has completed construction on the 39,400-square-foot fourth building at Parkway Business Center in Poway, designed by KMA Architecture and developed by Shamrock Poway Investors II LLC.

Also, R.G. Petty has completed an 86,000-square-foot facility in the Golden Triangle Research Center in San Diego for Triad Therapeutics. Pacific Cornerstone Architects was the architect, and Nexus Properties was the developer.

- - -

New Projects: San Diego-based Cornerstone Communities has started construction on Sonoma and Meridian, two new communities in the 3,200-acre master-planned community of Eastlake in Chula Vista. The communities, with a total of 254 units, will have homes priced from the low $300,000s.

- - -

Three Hundred: Texas-based Continental Homes will build homes in three neighborhoods at the 1,200-acre master-planned community of Rolling Hills Ranch in Chula Vista. Continental purchased 311 lots from National City-based Corky McMillin Cos., which recently purchased the remainder of Rolling Hills Ranch from Pacific Bay Properties.

- - -

Otay Ranch Design: San Diego-based McCullough Landscape Architecture Inc. has been named the landscape architect for Villagio at Lomas Verdes in the master-planned community of Otay Ranch in Chula Vista.

The mixed-use project will have 10,000 square feet of retail and 72 condominiums on 3.6 acres. Construction begins in August and is expected to end in September 2003.

The total cost of the landscaping is expected to be $450,000. McCullough's contract is for $12,000 worth of design services.

- - -

Final Notes: San Diego-based Johnson & Jennings General Contracting has completed 16,500 square feet of tenant improvement construction for Pardee Homes in Del Mar. C.E. Wylie Construction Co. of San Diego has completed the first phase of $6.8 million in renovations at Morse High School in San Diego, financed by Proposition MM funding. Corky McMillin has signed a multiyear agreement to use technology and information services provided by Bethesda, Md.-based CoStar Group Inc. Architectural Concepts Inc. of San Diego has been awarded the contract to renovate the interiors of Lawrence Welk Village in Escondido, a 286-unit time-share property. Interior Wood of San Diego Inc. was given a Craftsmanship Award by the Woodwork Institute of California for cabinetry and millwork at the Joan B. Kroc Institute of Peace and Justice at the University of San Diego.

Send residential and commercial real estate news to Jackson via fax at (858) 571-3628 or via e-mail at mjackson@sdbj.com. Call her at (858) 277-6359, Ext. 114.