Film Production Means Big Bucks for San Diego
Monday, June 10, 2002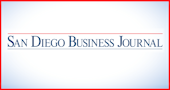 Film Production Means Big Bucks for San Diego
On-Location Filming Pays Off With Jobs for Locals
BY CATHY ANDERSON
Special to the Business Journal

What does film production bring to San Diego?

This is probably the most frequently asked question of the San Diego Film Commission. The answer is a lot , everything from jobs to tourism.

Whether watching "The Scorpion King" at the theater, a MasterCard commercial on television, the final episode of "The X-Files" or looking at a Jaguar sedan in a print advertisement the viewer has an opportunity to see San Diego in an entirely different light. What they don't see is the behind-the-scenes labor and the endless network of people, cutting bureaucratic red tape, scouting locations, all of which plays a role in attracting production to the San Diego region.

With film production , the ends do justify the means. Even with San Diego offering many incentives to the production community the benefits to the local economy are staggering , last year alone $72 million was spent in San Diego by filmmakers.

A great example of film production giving a slow economy a shot in the arm happened last month when "The X-Files" was in Borrego Springs filming the last episode of the series. The company came to a town that is usually bustling with tourists in the spring. However, this year brought little rain to Borrego and no beautiful flowers were to be found for sightseers. Many hotels and vendors catering to tourists were in need of visitors and "X-Files" was able to deliver , hotels were booked up for a few weeks, the local grocery and hardware store worked overtime to provide supplies for the crew, catering and art departments, and most importantly jobs were created for many locals.

Within a few weeks, the filming left more than $1 million in Borrego Springs.

- Seeing Is

Believing

Tourism also benefits from location filming in the community. The Travel Industry Association of America estimates that more than 5 million people specifically travel to destinations they have seen in the movies and on television.

It's true many people do flock to locations they see on screen. Take a look at Kansas City Barbeque , since the release of Tom Cruise's vehicle "Top Gun" in 1986 , the bar and restaurant continues to attract thousands of tourists each year. The high-profile exposure gained from this feature helped establish new impressions of the city and county and increased global awareness of the entire region.

Famous locations featured in movies such as The Hotel del Coronado, the setting for the 1959 classic film "Some Like It Hot," still draw fans in 2002. The hotel is so popular with movie lovers that American Movie Classics filmed a segment at the hotel describing where Marilyn Monroe stayed and what locations were used in the film.

The marketing value attached to being in a film is one of the most difficult benefits to put a price tag on. However, working with a production, as a location, may lead to many opportunities and exposure to a national audience. One only needs to consider how many times "Some Like It Hot" airs on television and has been purchased on video and DVD to understand the value is immense and far-reaching.

- More Jobs

For San Diego

One of the most important things the production community brings to San Diego is jobs.

Many locals work as production crew members, as actors and as extras and many businesses profit from providing services to the production community. When a producer makes the decision to film his television movie in San Diego, he or she will leave nearly $2 million in the region with a 20-day shoot paying for locations, crew, hotels, wardrobe, props, police, talent, extras, security, food and gasoline.

All this translates into more jobs for San Diego.

Whether it's the 200 extras hired for the weekend for "The Antwone Fisher Story," the 60-75 crew members working on "Silk Stalkings" for more than eight years, or the countless other series, features, print shoots and commercials that come to San Diego every year, all employ hundreds to thousands of people in a variety of capacities.

For those in the community not employed in the production industry, the opportunity to watch a filming can be a memorable experience and beneficial as well. When "Bring It On" filmed in some local schools, many San Diego cheerleaders were featured as extras and two of the high schools received additional perks including the refinishing of a gym floor and the sodding of a football field. It's fun for San Diegans to participate in a filming; in fact, the Film Commission is always receiving inquiries from people interested in listing their property in the commission's location library as a possible filming site.

- Onsite Filming

Is Big Business

Location filming is big business for many cities, states and countries. Staying competitive by providing production incentives is difficult with the global competition.

For example, New York police officers services are offered at no cost and Hawaii subsidized a soundstage solely to attract more film work. However, San Diego was one of the first cities to recognize the value of creating incentives to attract film production because the local government understood the tremendous economic impact of on-location filming.

The city, county and San Diego Unified Port District continue to offer public properties for locations at no cost. They do practice cost recovery.

The San Diego Film Commission offers its services at no cost, charges no film permit fees, provides 24-hour customer service, conducts initial scouting to bring productions to San Diego and works to address issues arising from on-location filming.

The Film Commission is an economic development program funded by the transient occupancy tax to attract, facilitate and permit film, video and print production.

For some San Diegans, film production means an acting job or a crew member position. For others, it could be using their property as a location, and for some it's vital to their business. And last, but certainly not least, there are those who simply love to watch the making of films, the opportunity to see a movie star on the street, or who enjoy knowing the exact place Downtown where the car was blown up in the film "Traffic."

Anderson is a San Diego film commissioner.