Inner Circle Helps Ease Loneliness of Leadership
Monday, June 3, 2002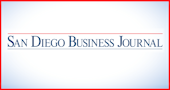 Inner Circle Helps Ease Loneliness of Leadership
Westfield Shoppingtown Offers Family Restrooms
Small Business & Retail
Lee Zion, Staff Writer
It doesn't have to be lonely at the top.

The San Diego chapter of Minneapolis-based Inner Circle assists executives of small business companies in overcoming their isolation by introducing them to other business owners and chief executive officers.

Like some leads groups, each Inner Circle chapter links businessmen from several non-competing businesses. Unlike leads groups, the focus is not on networking, but instead on solving business problems, said Gary Hawk, spokesman for Inner Circle of San Diego.

This gives entrepreneurs a chance to learn from the expertise of more established business owners. It also helps combat the isolation that sometimes comes with leadership, he said.

"What we do is provide a safe harbor to come talk about issues of leadership with other business owners," Hawk said. "Isolation is inherent, and this helps reduce it. You can come in and sit down with a group of people and talk about the issues of running a business, and balancing a life at the same time."

Issues that come up are equally likely to revolve around payroll and personnel issues, as well as "I've missed my kids' softball games for the last two years," he said.

This is especially helpful for owners of newly launched businesses. Sometimes, the business is so new that the company hasn't yet identified its blind spots, or areas that need work, Hawk said.

"It's like combination ad-hoc board of directors, team of peer advisers, and throw in a little group therapy for CEOs," he said.

Although a few companies in Inner Circle have as many as 400 employees, most businesses are much smaller and have 25 to 100 employees, Hawk said.

For information about Inner Circle, visit (innercircleofsandiego.com) or call Hawk at (619) 295-2899.

- - -

Bathroom On The Go: For parents with small children, Westfield Shoppingtown Plaza Bonita has unveiled a new concept in a family-friendly bathroom.

The "Family Restroom" is designed to meet the needs of families on the go with infants and toddlers in tow. The new concept was brought to San Diego by Westfield from Australia, where it has been popular with shoppers for years, said Ronnie Warmuth, a Westfield spokeswoman.

In the new facilities, families can use a one-room style family restroom where parents can take all their children at once and keep everyone together the entire time. There is also a rest area with couches, a television showing children's movies, private nursing areas, microwave for heating bottles and baby food, changing facilities and more, Warmuth said.

"The Family Restroom concept is unique to Westfield Shoppingtowns and provides a relaxing area for parents to take care of the needs of their toddlers and infants. This, along with the new larger men's and women's restrooms, provides a much needed high-quality amenity for our shoppers," she said.

- - -

Toyota Breaks Ground: The largest Toyota dealership in San Diego County has broken ground in Escondido.

Construction began May 28 on the new Toyota of Escondido dealership, at W. Mission Road and Broadway in a "park-like" setting on 7 & #733; acres. The site will feature a 60,000-square-foot showroom for the new car division, as well as a state-of-the-art business development and service center, said Mark Larson, a spokesman for Toyota.

The existing Toyota of Escondido store will be remodeled as the new home of the used car portion of the facility, which will occupy both corners of the intersection, Larson said.

- - -

Tax Laws For Women: The San Diego chapter of the National Association of Women Business Owners will hold a seminar on tax planning later this month.

Trust attorney Karen Ladner will lead the discussion, "Taxes, Trusts and Retirement Planning , What Savvy Business Owners Need to Know" at 5:30 p.m. June 19 at the DoubleTree Club Hotel in Mission Valley, south of I-8.

The session is intended to help small business owners keep more of their profits. Attendees will learn about the soundness of their tax and long-term investment strategies, said Carolyn Morrow, spokeswoman for NAWBO.

For information, e-mail Morrow at ckmarket @aol.com.

Send items for this column to lzion@sdbj.com, or call (858) 277-6359, Ext. 112. The deadline for the June 17 issue is June 7.