County Water Authority's Bond Rating Now Could Save Thousands
Monday, June 3, 2002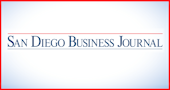 County Water Authority's Bond Rating Now Could Save Thousands
The San Diego County Water Authority expects to save $220,000 annually now that its bond rating was upgraded.

Standard & Poor's upgraded the authority's bond rating May 9, from AA- to AA. Two other ratings agencies, Moody's and Fitch, subsequently reaffirmed their credit rating of Aa3 and AA-, said Karen Brust, the authority's finance director.

Brust called the credit rating upgrade from Standard & Poor's good news.

"It recognizes the very strong financial condition of the authority, and acknowledges the excellent job that the authority is doing in managing its operations planning for the future," she said.

Since an agency's credit rating determines the interest rate for borrowing money, the upgraded credit rating means the authority can now borrow money at a lower interest rate. Brust estimates the water authority could save as much as $220,000 a year.

Standard & Poor's cited several key factors for the upgrade, among them strong reserve levels and management's plans to diversify its water supply sources. Also cited was the new rate structure with more stable revenues, giving the water authority more reliability in its financial projections.