Unemployment in June Jumps to 4.1 Percent
Monday, July 22, 2002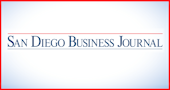 Unemployment in June Jumps to 4.1 Percent
Reflecting a slumbering economy on both national and state levels, San Diego's unemployment rate in June rose to 4.1 percent from 3.8 percent in May.

Although the rate was higher, the area managed to generate 2,400 jobs above the previous month's number to bring the region's total nonfarm payroll to 1,249,900. The largest component of the job growth came from the retail sector which added 1,300 jobs.

Other major contributors were the services industry that added 1,100 jobs; construction, 1,000 jobs; and finance, insurance, and real estate, 400 jobs.

The largest decline came from government sector, which lost 1,600 jobs, primarily due to schools taking summer recess.

Compared to June 2001, the area's total nonfarm employment increased by 21,200 jobs, an annual increase of 1.7 percent. Most of that amount came from the services and retail industries which contributed 18,000 jobs to the total.

The next biggest contributor was from the government sector, which expanded by 2,800 jobs.