SBA Extends Deadline for 9/11 Disaster Loans
Monday, July 8, 2002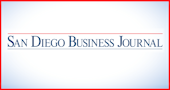 SBA Extends Deadline for 9/11 Disaster Loans
Borders Books Opens Newest Store Downtown
Small Business by Lee Zion, Staff Writer
Small businesses that lost business due to the Sept. 11 attacks on America now have an extended deadline to apply for assistance loans from the government.

The Small Business Administration announced June 26 the deadline to apply for Economic Injury Disaster Loans is now Sept. 30. The deadline was previously May 22.

"The devastation caused by the Sept. 11 attacks was far reaching, and small businesses all over the country are making progress toward economic recovery," SBA head Hector Barreto. "With this extension, more companies will have access to the working capital they'll need to rebound and stay in business."

Locally, the loans may apply to any business dependent on cross-border traffic, which plummeted due to security restrictions after the attacks, said George Chandler, executive director of the San Diego SBA.

Loans are available to eligible small businesses that suffered substantial economic injury as a direct result of the terrorist attacks or a federal action taken in response to the attacks. The loans provide eligible small businesses with working capital needed for certain business expenses they can't cover due to the disaster, Barreto said.

These expenses may include fixed debts, payroll, accounts payable and other bills, he said.

Loans are up to $l.5 million, with an interest rate of 4 percent and a maximum term of up to 30 years. The SBA determines the amount of economic injury, the term of each loan and the payment amount based on the financial circumstances of each borrower, Barreto said.

California businesses interested in applying for an economic injury disaster loan can contact the Sacramento office at (800) 488-5323. They can also visit the SBA Web site at (www.sba.gov/disaster/eidl.html).

- - -

Borders In The Center: Popular retailer Borders Books is opening a 33,000-square-foot store at 6th Avenue and G Street in the Gaslamp District in Downtown.

The opening celebration, from July 11-14, will feature special events such as live music, free giveaways, author appearances, events sponsored by the Children's Museum and more.

Based out of Ann Arbor, Mich., Borders has grown to almost 300 stores selling books, music and more, said spokeswoman Anne Armstrong.

- - -

Bench Press?: Vons is publicizing something new in their stores in San Diego and Southern California , benches.

Vons' new "Bench Works" program will place at the entrance of each store modern-looking benches, made from a composite of recycled plastic, steel and graphite. This will enhance the community feel of the store, said Loren Lansky, a spokesman for Fanfare Media, which is working with Vons to install the benches.

This effort will also help to find missing children, since the benches will feature an oversized color billboard, each featuring the face of a local missing child, he said.

Fanfare Media is also looking for sponsors for the billboards. Advertisers can appear on a billboard large enough to be seen from across the street, while the faces of missing children will be seen by thousands of shoppers, Lansky said.

"If these new systems help find even one missing child, then everyone wins," he said.

For more information, call (619) 829-4060 or e-mail loren@lansky.org.

- - -

More Sleep For S.D.: Sleep Train, a Sacramento-based retailer of mattresses with 43 outlets in Sacramento and San Francisco, recently opened five stores in San Diego County

The stores, in Grossmont Center, Carlsbad, Santee, on Miramar Road and in Mission Valley, all opened within the past few months, according to information from Sleep Train's Web site.

Bycor General Contractors handled construction for all the Sleep Train stores here, said Karen Namy, a spokeswoman for Bycor.

Send items for this column to lzion@sdbj.com, or call (858) 277-6359, Ext. 112. The deadline for the July 22 column is July 12.