TECH TALK: Firm Hopes Street Smarts Helps Land Deal
Monday, January 14, 2002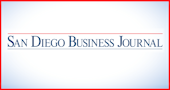 TECH TALK: Firm Hopes Street Smarts Helps Land Deal
High-Tech: Wireless Remote Control Technology Could Put Hijacked Jet In FAA's Hands
BY MIKE ALLEN
Senior Staff Writer
A local wireless technology firm is part of a team developing an onboard aircraft security system aimed at stopping jet hijackings similar to those of Sept. 11.

Mike Lamb, president of Poway-based Street Smart Technologies, said his company has been working with an engineering firm on a couple of onboard security systems to alert pilots of danger inside the cabin and another system that would transfer control of the aircraft to the nearest air traffic controller in the event the jet is hijacked.

The latter device would override unauthorized directions from inside the cockpit and give control of the plane to a nearby control tower to steer the plane from colliding with buildings.

"If the team we're partnering with wins the contract, it would be worth about $4 million to us (in sales)," Lamb said.

A lot hinges on how fast the Federal Aviation Administration implements new aircraft security measures in the wake of the Sept. 11 terrorist attacks. The engineering firms Lamb's company is working with said the contract award will be made this year, but he doesn't expect to know until 2003.

Although the possibility of getting the new work is exciting, Street Smart has been doing quite well in recent years with its patented wireless short range remote control technology.

Founded in 1989, the company was focused on making auto security systems run by remote control devices, but has branched into home security, and last year derived most of its $6.3 million in sales from products in that area.

Yet Lamb said the mix of business will likely change this year with a majority of sales coming from original export manufacturers making everything from computers to water irrigation systems. Among some of its clients are ADT Security Systems, Brinks Home Security, Motorola and SAIC.

The company is also planning to expand by acquiring a smaller tech firm, which Lamb said is close to completion.

If the deal is consummated, Lamb said total revenues this year could reach $15 million, an increase of 140 percent over last year's sales.

But even if the acquisition isn't made, he expects sales to reach more than $9 million, a jump of 60 percent.

Over the last two years, revenue growth has been averaging about 70 percent as the company finds more uses for the wireless technology platform it developed.

One recent example is a remote device that would shut down a tree chipping machine in the event a worker's hand or foot is caught. The device is implanted in a mouthpiece the worker wears while operating the chipper, and is activated when the workers grit their teeth on the mouthpiece.

Street Smart was acquired by Honeywell, Inc. in 1999 when Honeywell purchased Ademco, the former Street Smart owner, which had annual sales then of about $2 billion. Its new parent boasts annual sales of more than $26 billion.

Being part of such a huge corporation has advantages, Lamb said.

"We have access to endless capital," he said. "We buy what we need and we invest in what we need."

Given the anticipated growth curve, Street Smart should expand its employment from 15 full-time employees to 19 by the end of this year. It also has an external sales team of about 50 people, Lamb said.