Apartment Vacancies Climb Slightly as Rents Drop
Monday, January 14, 2002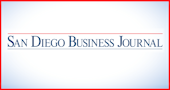 Apartment Vacancies Climb Slightly as Rents Drop
San Diego REAL ESTATE: Almost 800 Fewer Homes Were Sold in November
by Mandy Jackson
Staff Writer
> Vacancy rates are edging up and rental prices are leveling off, according to a third quarter 2001 apartment market update by Hendricks and Partners.

The Phoenix-based multifamily housing advisory firm reported absorption of apartment units continued to fall in the third quarter of 2001 after robust annual growth in 1999 and 2000. San Diego County saw 221 units absorbed in the third quarter, compared to 793 in the same quarter a year earlier.

The apartment market report said vacancy rates remain below the ideal rate of 5 percent at 3 percent in the third quarter , double the 1.4 percent vacancy rate recorded a year earlier.

Rents grew 54 percent from an average of $1,008 to $1,072 through the third quarter, compared to 10.2 percent for the first three quarters of 2000. Hendricks & Partners noted a large disparity in rents between Class A apartment properties and Class B and C properties, with leasing strongest at the latter two property types.

- - -

November Home Sales: Almost 800 fewer homes were sold in November than during the same month in 2000. In San Diego County, 2,183 homes were sold, compared to 2,955 homes in November 2000.

Also, 9,840 homes were on the market in November, compared to 8,257 that were on the market in the same month in 2000.

The average sales price of $368,711 for a single-family detached home was lower than in November 2000, when it was $381,591. However, year-to-date average sales prices were higher at $377,459 as of the end of November, compared to $357,729 in November 2000. Attached home sales prices were up almost $30,000 from November, 2000 to November, 2001.

- - -

IREM Recognition: Lauri Greenblatt of Promus Property Management was named Certified Property Manager of the Year by the San Diego chapter of the Institute of Real Estate Management.

Lucinda Garland of Sunrise Property Management was named Candidate of the Year.

Accredited Management Organization of the Year was awarded to Sunrise Management AMO.

Also, NewWay Landscape and Tree Services was named "Friend of IREM of the Year."

- - -

CPM Designations: Nine local property managers were recently awarded the Certified Property Manager designation by the Institute for Real Estate Management. The professional organization affiliated with the National Association of Realtors awards the Certified Property Manager designation to property managers meeting IREM's experience, education and ethical requirements.

The newly designated members in San Diego County are Timothy Bernard of Charles Dunn Co.; Cheryl Evans of Cushman & Wakefield; Cathy Lackmann, Teresa Lauritsen and Jocelyn Lozier of Manchester Resorts; Pat McMillin of McMillin Properties; Ed Muna of Southwest Value Partners; and Michelle Singh and Diana Valin of Fairfield Properties.

- - -

CCIM Awarded: Joe McDermott, senior vice president and partner at Coldwell Banker Commercial-North County Properties in Carlsbad, has been awarded the Certified Commercial Investment Member by the Chicago-based CCIM Institute, an affiliate of the National Association of Realtors.

Upon completion of graduate level curriculum and a certain amount of experience, CCIMs are recognized as experts in commercial real estate brokerage, leasing, asset management, valuation and investment analysis.

- - -

New Product: San Diego-based European Natural Stone Co., an importer and fabricator of stones, is launching a new product line for the bathroom called granite express vanities.

Granite express kitchen countertops were the most requested products in 2000 by readers of Building Products and three of its affiliated publications, according to a company press release.

- - -

Top 100: Nissho of California, based in Vista, was ranked 41st in the annual top 100 list of lawn and landscape contractors in Lawn & Landscape magazine, a monthly trade publication.

The company's 2000 revenue was $16.7 million, a 27 percent increase over 1999. The company expects an 18 percent increase for 2001.

- - -

Selected: HMC Architects in San Diego has been selected as the executive architect for Sharp Coronado Hospital. The project includes renovations to the hospital lobby and business office, creation of a new architectural image, renovation of the emergency department and other facility renovations.

Send residential and commercial real estate news to Jackson via fax at (858) 571-3628 or via e-mail at mjackson@sdbj.com.