New Laureates Honored at Kyoto Prize Symposium
Monday, February 11, 2002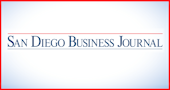 New Laureates Honored at Kyoto Prize Symposium
BY GIG PATTA
Staff Writer
As the Inamori Foundation presented its Kyoto Prizes symposium outside of Japan for the first time in its 17-year history, the organization's president offered his thoughts on the city where the awards were given out.

Kyoto Prize laureates discussed peace and harmony in relation to their work at the Kyoto Prize Symposium at the Joan Kroc Institute for Peace and Justice on the campus of University of San Diego last week.

At the event, Dr. Kazuo Inamori, president of the Inamori Foundation, explained in an exclusive interview with the San Diego Business Journal that the city is an ideal location for the symposium because of the region's high-technology climate, diversity, people and peacefulness.

"San Diego is rich in high-tech industries and high-tech related universities," Inamori said through the assistance of a Japanese translator. "This is a well-balanced town."

He credited San Diego's economic diversity in high-tech, education, biotech and defense industries as a prospering city deserving of the Kyoto Prize symposium.

In addition, he believed San Diego is a great city to start a business in North America, which is why he chose San Diego as Kyocera's North American headquarters in Kearny Mesa.

Inamori is also the founder and chairman emeritus of Kyocera Corp. Kyocera, a microelectronic packages manufacturer, employs more than 3,000 people in San Diego and Tijuana, and was founded in 1971. It was the first Japanese-capitalized manufacturer in the state of California.

Kyocera was founded by Inamori and seven other colleagues in Kyoto, Japan, in 1959 with only $10,000 in capital at the time.

"I have an impression that San Diego is a scientific town of high-technology," Inamori said. "That is why Kyocera is still here today."

Inamori explained the Kyoto Prize symposium's move to San Diego came about after an invitation from USD President Alice B. Hayes.

She had attended previous Kyoto Prize award ceremonies and offered to host the symposium at USD.

"Other universities also offered, but she was most enthusiastic for our causes," he said.

The foundation has already agreed with USD to let the university host the symposium for the next two years.

"People can be encouraged and live better lives by knowing the backgrounds of such wonderful achievements," Inamori said.

Inamori established the Kyoto Prizes and the Inamori Foundation in 1984 with a combination of his cash and Kyocera Corp.'s stock estimated at 20 billion yen, or $149 million.

The foundation had more than 64.4 billion yen, or $480 million in assets as of last March. The organization is chartered by Japan's prime minister's office, the Ministry of Education and the Ministry of International Trade and Industry.

Kyoto Prizes, similar to the Nobel Prizes, are awarded annually to international recipients contributing to the scientific, cultural and spiritual development of mankind in the categories of advanced technology, basic sciences, and arts and philosophy.

The laureates were awarded the Kyoto Prizes in November in Japan.

"We strive to combine intellectual advancement with social responsibility," said Hayes. "We are able to share this part of the experience."

The 2001 Kyoto Prize winners were: Zhores Alferov of Russia; Izuo Hayashi of Japan; and Morton Panish of the United States, for their advanced technological work in opto-electronics. John Maynard Smith, an evolutionary biologist from the United Kingdom, won for basic sciences with his evolutionarily stable strategy (ESS) idea.

The arts and philosophy prize was awarded to Gy & #246;rgy Ligeti, an Austrian music composer, for his unique musical style.

The 2001 laureates will join such Kyoto Prize laureates as Jane Goodall, a British primatologist; Roy Lichtenstein, an American contemporary fine artist; and San Diego's Dr. Walter H. Munk, an oceanographer at the Scripps Institution of Oceanography at UCSD.

The three-day symposium was free to attendees who listened to laureates regarding their accomplishments. On the last day, four laureates engaged in a panel discussion on peace.

Laureate winner John Maynard Smith did not attend the symposium due to illness.

Hiromu Nomoto, a staff intern, assisted with this article.