Local Broker Completes 7-Property 1031 Deal
Monday, August 12, 2002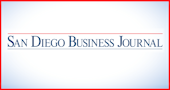 Local Broker Completes 7-Property 1031 Deal
Goodkin Mergers With Ackman-Ziff Group
REAL ESTATE
by Mandy Jackson, Staff Writer

Being involved in seven apartment property sales that closed during a 3 & #733;-month period is probably not a unique situation.

However, John Garner recently completed a seven-property transaction that was a series of 1031 exchanges involving five different clients and $15 million in property sales.

A 1031 exchange allows a property owner to invest in a new property within a limited amount of time before incurring capital gains on revenue from the sale.

Garner is vice president of investments in the San Diego office of Marcus & Millichap, an Encino-based real estate investment brokerage.

The seven-leg transaction began with Brooke Development, which owned the 48-unit Villa Del Norte in Vista, and Charles and Erin Dimry of C & E; Ventures LLC, which owned a six-unit property in Oceanside.

Barry and Mary Blue of PacWest Landcare Inc. purchased Villa Del Norte for $3.3 million, looking to consolidate their two-property, 18-unit portfolio in Oceanside into one property.

The Dimrys purchased the Blue's 12-unit complex for $1.3 million, contributing $625,000 from the sale of their property.

Using $690,000 from the sale of a four-unit property at Dana Point, a private client purchased the Blue's other property for $600,000.

Brooke Development exchanged up to Ocean Breeze Village, a 72-unit property in Oceanside, for $6.45 million. Garner negotiated an extended escrow for the transaction so that Brooke could sell a 32-unit property in Vista for almost $2.5 million to real estate entrepreneur Mitchell McDonald.

"Our team is currently building another 1031 exchange series within the San Diego County market," Garner said. "With low interest rates still available, the market provides opportunities for many exchange-driven buyers who are willing to pay a premium on properties in lieu of a large tax bill."

- - -

Merged: Sanford R. Goodkin and Associates, a San Diego-based real estate company specializing in acquisitions, development and strategic planning, has merged with the Ackman-Ziff Real Estate Group of New York City to form Ackman-Ziff Goodkin Realty Advisors.

The new company will focus on raising debt, mezzanine capital and joint venture equity for real estate investors and advisers, primarily in the Western states.

- - -

Local Division: John Laing Homes, headquartered in Newport Beach, has named John M. Mecklenburg to lead its new homebuilding group in San Diego County.

According to Mecklenburg, John Laing likes San Diego County because opportunities exist to build homes for every income group. Construction recently began on the company's first project in the county, 219 homes in The Tides at Waters End in Carlsbad.

- - -

New In Chula Vista: Newport Beach-based William Lyon Homes recently closed escrow on 172 single-family home lots in the Eastlake community in Chula Vista. The purchase price was not disclosed.

William Lyon plans to offer homes for sale early in 2003. The builder currently has nine developments under way in San Diego County and six more projects planned during the rest of 2002.

- - -

Expanded Presence: Tampa, Fla.-based KHS & S; Contractors has opened an office in Mira Mesa. Jim Letzring, a former project manager, will lead the local office.

KHS & S; specializes in interior, exterior, themed and water feature or rockwork construction. The company is working on the San Diego Padres' ballpark and the San Diego Grand Hyatt expansion in Downtown San Diego, as well as a residential project at San Diego State University.

- - -

100 Percent Leased: With the addition of a 2,610-square-foot RadioShack store and a Panda Express restaurant, City Heights Retail Village is 100 percent leased.

The 108,706-square-foot center is anchored by an Albertsons grocery store.

The developer and co-owner is William Jones, president of San Diego-based CityLink Investment Corp. The other owner is The Retail Initiative, a subsidiary of the Local Initiatives Support Corp. based in New York. San Diego-based Flocke & Avoyer is the leasing brokerage.

- - -

Build-Out Completed: With the completion of a 59,760-square-foot industrial facility at 8709 Kerns St. in Otay Mesa for Quality Services Mexico Inc., the 675,000-square-foot central phase of San Diego-based Murphy Development's Siempre Viva Business Park is completed.

The central phase is 95 percent leased. QSM's general contractor was Lusardi Construction Co., which is headquartered in San Marcos.

Send residential and commercial real estate news to Jackson via fax at (858) 571-3628 or via e-mail at mjackson@sdbj.com . Call her at (858) 277-6359, Ext. 114.