Clifford Chance Descends on the West Coast
Monday, August 5, 2002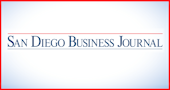 Clifford Chance Descends on the West Coast
Hecht, Solberg Adds David Watson to Firm
LAW by Rene'e Beasley Jones, Staff Writer
The world's largest law firm , London-based Clifford Chance Rogers & Wells LLP , opened an office July 1 in the heart of San Diego's Sorrento Valley.

Besides San Diego, Clifford Chance opened offices in San Francisco, Los Angeles and Palo Alto this year. A May press release indicates the West Coast's primary offices are San Francisco and Palo Alto. Los Angeles and San Diego are satellite offices.

Clifford Chance muscled in on San Francisco-based Brobeck, Phleger and Harrison, which has an office in San Diego. In May, Clifford Chance announced at least 16 Brobeck partners had agreed to join Clifford Chance and its California expansion.

Brobeck, Phleger and Harrison has 900 attorneys in 14 offices.

"This is a tremendous step forward for us," Clifford Chance CEO Peter Cornell said. "Adding this team to our already substantial U.S. practice greatly enhances our offering to clients , both in the U.S. and the rest of the world. It gives us a ready-made presence in the vibrant and influential Californian economy, demonstrates the depth of our commitment to the American market and provides all our clients with a new level of support in the U.S."

Faye Russell and Maria Sendra, both corporate partners, will head Clifford Chance's San Diego office.

"The addition of Faye and Maria gives us an enormous advantage in building our West Coast presence," said James Burns Jr., the firm's managing partner over West Coast offices and former firm wide managing partner of Brobeck.

"They are highly regarded in the business and legal communities as leaders in the representation of emerging-growth and high-technology companies, both on the West Coast and internationally."

Russell was formerly the managing partner of Brobeck's San Diego office, chairwoman of Brobeck's public company practice group, chairwoman of its life sciences practice group and a member of its seven-person firmwide policy committee.

Under her leadership, Brobeck's San Diego office expanded from about 40 attorneys to more than 100 in two years.

Sendra has served clients in various national, Canadian, European and Asian deals. She has published several articles on corporate joint ventures and global strategic alliances.

Clifford Chance's San Diego office has eight attorneys , all formerly with Brobeck's San Diego operations. Clifford Chance boasts of about 3,800 attorneys in six global practice areas.

- - -

New Hire: Hecht, Solberg, Robinson, Goldberg & Bagley LLP of San Diego has added David Watson to the firm.

Watson has more than 14 years' experience in tourist destination and resort clientele. His clients include theme parks, animal and marine attractions, developers and hospitality and telecommunications businesses.

Before joining Hecht, Solberg, Watson was a partner at Gray, Cary, Ware & Freidenrich of San Diego.

- - -

New President: Retired San Diego attorney Sid Stutz is the new president of Home of Guiding Hands Corp.'s board.

HGH is a nonprofit organization based in San Diego's East County that provides residential, vocational, respite and community living services to more than 400 children and adults with developmental disabilities.

- - -

Helping Out: The San Diego County Bar Association's Children at Risk Committee has announced a partnership with Kennedy Elementary School in southeast San Diego.

The committee will assist the school by setting up tutoring programs, sending volunteers into classrooms to read to students and presenting the Children at Risk video program that introduces children to the court system.

Beasley Jones can be reached at (858) 277-6359, Ext. 109, or via e-mail at rbeasley@sdbj.com.