Author Applauds Biosite's Heart-Failure Test
Monday, August 5, 2002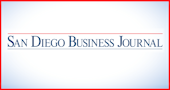 Author Applauds Biosite's Heart-Failure Test
Digirad Expects New Heart Disease System To Rival Existing Products
BIOTECH by Marion Webb, Senior Staff Writer
A recent study suggests Biosite Inc.'s test allows emergency room doctors to accurately diagnose congestive failure and at a faster rate than using conventional methods.

Avoiding misdiagnosis of the hard-to-detect condition could save thousands of lives, said Dr. Alan S. Maisel, director of the coronary care unit at the San Diego VA Healthcare System and lead author of the New England Journal of Medicine study published July 18.

Biosite, a San Diego-based publicly traded company that develops diagnostic tests, sponsored the study of 1,586 patients in several hospital emergency rooms nationwide. The Triage BNP Test measures B-type natriuretic peptide levels, a protein that is elevated during heart dysfunction, in just 15 minutes using two drops of blood, Maisel said.

The study showed that in 43 percent, or in 681 patients complaining of shortness of breath, doctors weren't sure it was related to congestive heart failure or other conditions.

Biosite's test, when used alone, was accurate 84 percent of the time, or in 479 patients of the 681 suspected heart failure patients.

Final diagnosis showed that of the 1,538 patients, 47 percent, or 744 patients, had heart failure while 49 percent, or 770 patients, did not have heart failure.

The remaining 5 percent had a history of heart dysfunction, Biosite said.

In 97 percent of diagnosed heart failure patients, doctors confirmed the potentially life-threatening condition with such tests as chest X-rays and echocardiographies.

Conventional methods to diagnose heart failure include looking at a patient's history, a physical exam and ordering tests, Maisel said.

"But even if you put all those tests together, the BNP Test still works better than all of those," Maisel said.

At a cost of $26 per BNP test, Biosite's test is significantly less than a $200 X-ray or a $700 echocardiography, he added.

Biosite's test was approved by the Food and Drug Administration in November and is being used by about 664 of the nation's 4,000 hospital emergency rooms.

The tests are run on a $4,600 system sold to hospitals by Biosite.

Maisel said he is a consultant of Biosite, but has no financial stake in the firm.

- - -

Digirad To Market Camera: Digirad Corp. expects its new dual-head camera system for detecting heart disease will rival existing products on the marketplace.

Diane Rosenman, marketing manager at the San Diego-based digital imaging device firm, said the firm's first dual-head camera weighs less and is smaller than products currently being sold, giving it a competitive advantage to cameras made by such large companies as Philips Medical Systems.

David Sheehan, Digirad's co-CEO and president said, "The company's ability to provide a comprehensive product offering to physician of all sizes has been a tremendous advantage."

Digirad's camera weighs 975 pounds and fits into a 7-by-8-foot space. That compares to a 2,425-pound camera that fits an 8-by-10-foot space sold by Philips, said Rosenman.

Samia Arram, product manager for Philips in Milpitas, said the firm's solid track record and identified brand speaks for itself.

"I don't think it (Digirad's camera) will rival ours," Arram said. "We have a strong history of reliability, installations, and service; when you combine these three things, it's hard to introduce a new camera."

Both Digirad and Philips declined to give an exact price for their cameras. But Digirad said its price tag of around $300,000 is competitive, although affordable mainly to the larger private cardiology offices with many patients.

Rosenman said Digirad aims to sell the new device to cardiologists working in hospitals and private offices nationwide. The first devices won't be available until September.

To make the camera available to smaller doctor's offices, Digirad brings the technician and camera on-site via a mobile service.

Closely held Digirad generated $5.9 million in revenue from such licensing agreements with doctors for the second quarter ended June 30. That compares to $2.4 million in the year-earlier period.

For 2001, Digirad had total revenue of $32 million. Total revenue for the first half of this year was $18.8 million, Rosenman said.

She expects higher revenue from product sales, but wouldn't give a percentage figure.

Send biotech news to mwebb@sdbj.com.