Radio, TV Sports Announcers Offer New Take on Game
Monday, April 22, 2002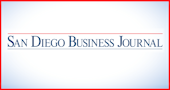 Radio, TV Sports Announcers Offer New Take on Game
Media: Change May Shake Up Some Longtime Listeners
BY TANYA RODRIGUES
Staff Writer
It seems easy to gauge a sports team's success , compare wins to losses.

Evaluating the people who host the radio or television broadcasts of the games isn't so simple, however. Neither are changes.

Ratings are one thing, but what if the team is not playing well? What if a new or better direction is possible?

And, of course, what about money?

This year, more than recent ones, San Diego is seeing several new broadcast personalities and teams. Among the newcomers is the Padres' TV play-by-play announcer, Matt Vasgersian.

Fans of the local Women's United Soccer Association team, the Spirit, have new TV hosts Chris Marlowe and Brian Quinn.

And while Billy Ray Smith and Scott Kaplan are familiar voices to all-sports station XTRA-AM's morning listeners, they could be new to those tuned into San Diego's first-year arena football team, the Riptide.

Executives associated with the broadcasts say that aside from the performance on the field, announcers and analysts also play into people tuning in. They say the hosts are an important marketing tool.

"Frankly, your talent is your brand in the TV world," said Dan Novak, vice president of programming and communications for Cox Communications' local operations.

"It absolutely impacts how many households are turning on the game," said Novak, who oversee the Padres TV broadcasts.

Kevin Crow, the Spirit's general manager, said he evaluates the broadcasts by ratings and audience feedback.

"I look at the broadcasts to be as much of an infomercial on what the WUSA and the San Diego Spirit are about as anything we can do," Crow said.

New Padres Announcer

Novak made a noticeable change this year by replacing Mel Proctor, who called the Padres plays' on Channel 4 for five years.

Vasgersian, who previously announced for Milwaukee Brewers, also fits in with other programming Cox will be doing, he said.

Once a switch is made, Novak isn't surprised to find himself fielding complaints.

"People don't like change, and it takes them a while to get used to it," he said. "It's very subjective."

He's found that the best way to deal with calls and letters is to do it personally.

As for how long it can take to see if Vasgersian gels with fans, Novak said, "There's nothing scientific about it."

He continued, "For some people, a couple of games into it, they're saying, 'I love this guy.' Other people will never be happy."

So far, Vasgersian's generated some controversy , mostly because of his reputation for being less old-school and more pop culture-oriented in his commentary.

John Maffei, who covers sports radio and TV for the North County Times, gives Vasgersian high marks so far.

A couple of weeks into the season, Maffei's attended almost all of the games, but he's seen some of Vasgersian's work for the Padres.

"I like him," Maffei said. "I think he's going to be good. I think he's got a lot of energy. He's not your average 'fastball outside, ball one' kind of announcer."

The hire suggests a new direction for Cox's approach to the broadcasts, he said.

"They want to be more entertaining."

The feedback so far has been split down the middle, slightly tilted to people liking Vasgersian, Maffei said.

"I think they were kind of ready for a change," he said. "I don't know if they've accepted him yet, but I get the feeling that they very much want to."

New Broadcast Formats

Building the same bridges are some of the newer broadcasts in town, including the Spirit, which is in its second season.

Last year's color analyst, Kim Free, who was also the Spirit's public relations and marketing director, moved to Atlanta to be the WUSA's marketing vice president.

A decision was made to rework the whole broadcast. Play-by-play announcer Chris Ello was replaced with Chris Marlowe, whose work has included NCAA basketball on ESPN and the Olympics.

Quinn, a local icon since his playing days with the San Diego Sockers, had never done color commentary on TV. Crow was confident about his knowledge and felt he'd be a good match with Marlowe, he said.

The team handed broadcasting responsibility to the WUSA this year, which has revamped its approach. Rather than separate broadcasts for each city, one is done for both markets.

Kerry Tatlock, the league's vice president of television and new media, admits the move saves the costs of transporting the hosts and production crew, but wouldn't disclose details.

Tatlock said the approach means the home team's broadcasters have to cover the game more objectively, more like a network would.

Maffei said the move may not succeed. Viewers and fans want to follow their team with that side's perspective , and they want consistency, he said.

Riptide A Wild Card

So far, the Riptide has proven to be a wild card in many ways, including their broadcasts, which air on KPOP-AM. Like XTRA, KPOP is operated by Clear Channel Communications.

Riptide President and COO Gil Saidy wasn't available for comment by deadline.

Smith and Kaplan reportedly have an interest in the team as well, which could cloud the way they cover the game.

"If I was announcing and I owned part of the team, I think I would react differently if I was calling it," Maffei said.

From what he's heard, most Riptide listeners were a bit confused.

"The initial reaction was that people were kind of scratching their heads," Maffei said. "It wasn't terrible, but it was awfully different. I think people are reserving judgment a little bit to hear something more."

The Riptide could have leeway to take a lighter tone, Maffei said. Listeners may not want the every game detail, the way they would with the Chargers, for instance.

"I think what they're thinking is if we do this straight play by play, we're probably going to lose people," he said.

Contract lengths for the Riptide hosts was unavailable. Vasgersian is on a two-year contract with options for three years after that, and both Spirit announcers are on yearlong contracts. However, both Novak and Crow say the recent hirings are part of long-term plans for their broadcasts.

According to Dennis Wharton, senior vice president of communication for the National Association of Broadcasters, longevity is key to a broadcaster's success.

Beyond that, it's talent on and off the field. "The ideal situation for an announcer is to have a winning team and to excel at the profession, and it's a magical combination," Wharton said.