Ben & Jerry's Dish It Out for K9 Companions And Global Warming
Monday, April 22, 2002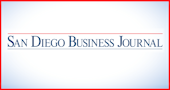 Ben & Jerry's Dish It Out for K9 Companions And Global Warming
SPECIAL REPORT - Small Business:
Federal Agency Helps Get Boogie Boards Abroad
Small Business & RETAIL
by Lee Zion, Staff Writer
Bobby Szabad, of Carlsbad-based Szabad International, found help from an unusual source when he was looking to export his surfboards and boogie boards.

Szabad is profiled in a Webcast from the U.S. Commercial Service, an agency of the Department of Commerce. "Success Stories: North County's Best-Kept Secrets" highlights the agency's work in helping small and medium-sized firms do business overseas.

Szabad International had faced some challenges in foreign markets, such as import regulations, political issues and currency conversion. In the Webcast, he offers advice for other small business owners on how to deal with these and other issues.

Maria Cino, assistant secretary and director general of the U.S. Commercial Service, said her agency offers several services, such as market research and finding international buyers and partners. The assistance gives a big push to small business, she said.

"About 95 percent of the world's consumers live outside the United States," she said. "International sales are a great way for businesses to grow." Szabad agreed.

"The rest of the world is looking for American brands," he said.

Four other businesses are profiled in the Webcast , San Diego-based Hydro-Scape Products, San Marcos-based Aethercomm, and Personal Strengths Publishing and Viasat, Inc., both in Carlsbad.

The U.S. Commercial Service's Webcast can be seen at (www.usatrade.gov/webcasts).

- - -

Here's The Scoop: Want free ice cream? Better hurry.

The Ben & Jerry's Scoop Shop in Westfield Shoppingtown Horton Plaza is handing out free ice cream cones April 22 from 11 a.m. to 8 p.m. Patrons are asked to make a donation to Canine Companions for Independence instead of paying for the ice cream, said Roger Brazil, a spokesman for Westfield.

This annual promotion has raised thousands of dollars for the volunteer-based organization that raises and trains dogs for people with disabilities, he said.

The daylong promotion will also unveil Ben & Jerry's new flavor, "One Sweet Whirled." The new flavor combines caramel and coffee ice cream with mocha chips and marshmallow and caramel swirls, Brazil said.

The promotion is also part of a larger campaign in which Ben & Jerry's joins with the Dave Matthews Band, whose single "One Sweet World" helps call attention to the problem of global warming, he said.

Nationwide, Ben & Jerry's dished out about 800,000 free ice cream cones last year and hopes to hit a cool million this year.

- - -

Barriers At Banks For Women?: A new survey says women business owners find it more difficult to get small-business loans than men.

Greenwich, Conn.-based NFO WorldGroup, formerly National Family Opinion, questioned 900 small-business owners throughout the nation between October and March.

According to the survey, 39 percent of women said banks have become less willing to lend money in those six months, compared to 22 percent of the men, said Maria Erickson, an NFO spokeswoman.

"Women small business owners do not feel confident that the banking industry is interested in supporting (them)," she said. "One-third of these women are turning to credit cards or personal loans as a solution."

Fewer business owners, male or female, use personal assets to secure business loans or credit lines. Many male owners use personal credit sources for their business , but due to favorable rates, not due to difficulty securing credit, Erickson said.

Women business owners, meanwhile, focus less on the cost of credit and more on the flexibility of the lender. Among women, 22 percent cite the provider's willingness to work with them as their top criterion, followed by their personal relationship with the lender at 20 percent, she said.

Only 13 percent of women see price as the top consideration, compared with more than 31 percent of the men, Erickson said.

- - -

Tool Time: Five local Sears stores now have a revamped department set aside for tools.

"Tool Territory" opened April 11 at the Sears stores in Plaza Camino Real, Chula Vista Center, Parkway Plaza, North County Fair and Westfield Shoppingtown UTC. Nationwide, the famed department store hopes to have about 870 stores with Tool Territory departments by the end of the year, said Carol Simantz, a spokeswoman for Sears.

Tool Territory features the Craftsman store brand, as well as Stanley, Makita and 70 other brands, Simantz said.

Send tips for this column to lzion@sdbj.com, or call Zion at (858) 277-6359, Ext. 112. The deadline for the May 6 issue is April 26.