Artists Profit From Developing Business Fundamentals
Monday, April 22, 2002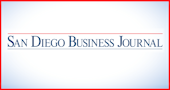 Artists Profit From Developing Business Fundamentals
SPECIAL REPORT - Small Business:
Entrepreneurs Follow Their Dream
BY LEE ZION
Staff Writer
For Carole Enmark, the difference between art as a hobby and art as business became clear when she saw rural California families lose their only source of income.

Enmark, now the director of the Small Business Development Center in Oceanside, was working for Women's Economic Growth, a "micro-enterprise" agency in Siskiyou County. That was in 1987, and the only industry there was logging, a fairly dangerous job. When an accident occurred, it was a life-changing event, Enmark said.

"The logger lost a leg or an arm, or broke his back," she said. "It was heartbreaking."

Loggers' wives, so long out of the work force, were now thrust back in, but without any marketable job skills. So there was nothing available except for child care or going into logging themselves, Enmark said.

Enmark was determined to give them another choice. Since many of them did arts and crafts as a hobby, she decided to help them turn the handiwork they already loved into a business.

Enmark quickly discovered there were no courses anywhere on the business side of art. So she set up one of her own.

"We helped them up there to legitimize themselves and their businesses and find markets for them," she said. "Two women partners have made a tremendous success , they sell to Wal-Mart and Costco."

- Course Provides Business Fundamentals

In 1999, Enmark came to San Diego County and began offering similar classes here in the spring of 2001 through the Small Business Development Center. Even today, her class is one of only five such courses in the entire country, she estimated.

The $90 course, "The Business of Art," is eight weeks long and is open to all artists. Her most recent class graduated April 11.

The next class begins in the fall, while an SBDC "artist's roundtable" May 14 invites all local artists to discuss possible joint marketing ventures such as a Web site, Enmark said.

Enmark focuses on marketing, while attorney David Branfman handles protecting intellectual property. Enmark stressed, however, that beyond these two areas, art is just like most other small businesses.

"Artists do have to know the same things as any other business arena. But what they have to find is those areas that they're weakest in," she said. "That's the same as any other business owner. It's just that their weaknesses might be different."

Kristine Brooks agreed. As an artist, she does the same work as any other small company.

"I have to write a business plan just like an annuities company does. I have to put together marketing and advertising strategies just like any other company does. The only difference really is what the end product is," she said.

However, her job is more difficult because people buy art only when they have disposable income, Brooks said.

"It's not something that they have to have," she said. "You're selling something that you are trying to appeal to people's hearts, their emotions and not their need to fill their stomach or clothe their kids or put a roof over their heads," Brooks said.

- Business Plan a 'Work in Progress'

She's now working with business partner Mia Ferrell to set up her own company, which they plan to call Curious Creek Fibers. The company will dye silk fabrics which will then be woven into a multi-colored yarn for knitting, crocheting, macram & #233; and so forth.

The course helped Brooks and Ferrell refine their business plan, which she called a work in progress. Already, they've contacted three local yarn stores and the La Jolla Fiber Arts Gallery to market their fabrics, and these outlets have all offered early encouragement, Brooks said.

Oceanside resident Kevin Finneran, meanwhile, has his own success story. Two years ago, he was burned out by the stress of his job as a biomedical equipment technician at Kaiser Hospital in San Diego.

Inspired by the time he lived in Maui, he started a new career of Hawaiian-themed paintings typically known as "Hawaiiana." To help him on his way, he set up a calendar with milestones to check off one by one, he said.

"I put it up in my shop where I work, and it was counting down to Jan. 1, 2002. Probably within three months of the time I put my sheet on the wall, things in my life started happening in order to make this thing occur," Finneran said. "I guess it's the visual of it being there every day , I would walk in and check it off."

One thing led to another. He incorporated his business as Maui Maniacs, based in Oceanside, then joined the Oceanside Artists Alliance, which is affiliated with the Oceanside Museum of Art.

Through them, Finneran found out about Enmark's class, which he enrolled in last year. The course confirmed his belief that his painting was more than just a hobby, and he began promoting himself aggressively.

That meant he had to take on many different aspects of business , business planning, marketing and doing research to find which galleries were available to show artists' work.

- Fear of Rejection

On a more personal level, Finneran also had to overcome his fear.

"You don't want to hear criticism. You don't want other people to see your work. You're exposing something that's pretty personal to you because it's something you've created and you're putting it out there for other people to see and buy," he said.

He held his first show at The Artists' Colony in Encinitas in February. That led to some sales and commissions, he said.

It also led to another event earlier this month , "The Art of Dessert," sponsored by the Downtown Encinitas MainStreet Association. The event paired area artists and restaurants, and Finneran teamed with the Hawaiian-themed restaurant Kealani's.

His long-term goal is to return to Hawaii and become one of the top 10 artists there. To do that, he'll be making contacts both in Hawaii and San Diego.

Finneran will also have to continue balancing the art and business side of what he does.

"The business side of art takes up more time than I had thought," he said. "It kind of pulls me away from painting. I need to produce more work (and) be more consistent with what I do. And I need to be more consistent in making contacts with gallery owners."

Artist and entrepreneur Sandra Brue learned many of these lessons two decades ago, when she launched her own art business out of her garage. By balancing her art, her business acumen and positive thinking, Brue was able to grow San Diego-based Sandicast, Inc. into a multimillion dollar enterprise.

My dream (was) to create the most beautiful sculptures of God's precious creatures I possibly could," she said. "I started this wonderful business with just four sculptures and a prayer, and look at us now."

In the beginning, her animal sculptures were just for pocket money. They were also a return to her childhood , she hadn't carved like that since she was a young girl making figurines out of soap, she said.

But in 1981, her husband issued a challenge, saying their household needed to bring in an additional $10,000 a year. So she officially launched Sandicast, Inc. with four animals, including the small rabbit that is now part of the company logo.

Brue got lucky when she began selling her work through small gift shops in Southern California. At the time, customers were tiring of the "cute" animal sculptures on the market and little else was available, she said.

In contrast, Brue's style was much more realistic. A Jack Russell terrier piece, for example, has about 65,000 individual hairs sculpted into the stone.

Sales took off, and she met her $10,000 goal within a few months. Now, she is known nationwide. She created a special "Socks the Cat" for former President Bill Clinton, while Walt Disney commissioned her to design the Lion King collection of statues.

Locally, Brue was named as the Woman Entrepreneur of the Year by the San Diego chapter of the National Association of Women Business Owners in 1994. In 1995, she won in the manufacturing category of the "San Diego Women Who Mean Business."

- Learning to Love Business

For Brue, the difference between art and business is largely a matter of degree.

"Anybody can do art, paint, draw, sculpt, whatever, anytime you want, and that's a hobby," she said. "When you are able to make a profit, it's a business."

To get there, artists first need to love business.

"They need to have the basic concept, which I think a lot of artists don't have, which is being able to take what they love and sometimes altering it. You either alter your art, or you find a market for what you do , either seek the people who like what you do, or do what people like," Brue said.

But one thing that sets artists apart from other business people is that they get to have fun.

"As we are speaking, I am putting tens of thousands of little hairs on a dachshund," she said. "It's really rewarding. And it's fun to see something that is so personal, and to be able to earn a living from this, and in my case, be the reason that other people earn a living."

Brooks agreed.

"It's all fun. It's not all easy, and it's not all straightforward and simple," she said. "But it's all fun because you're not just working for somebody else's bottom line; you're working for your own."

Finneran added that pursuing art is more important than ever, especially after Sept. 11.

"A lot of people have been evaluating what they're doing, and they're finding that their passion is not where their job is," he said. "A lot of artists are going along, doing their little thing, and (they) realize that the world needs art. The world needs a lot more beauty in it than we're seeing right now."