Riptide Ready to Make a Splash in the Sports Arena
Monday, April 8, 2002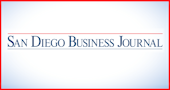 Riptide Ready to Make a Splash in the Sports Arena
Sponsors Catching the Spirit of Local Soccer
SPORTS
by Mike Allen, Senior Staff Writer
Gil Saidy, the owner of San Diego's Riptide which had its opening game April 6, says he always dreamed of owning a sports franchise.

In his youth, Saidy had a part-time job as a runner at some of Los Angeles' main sports venues, including the Forum, the Rose Bowl and the Sports Arena. His job was helping the sportswriters, getting them what they needed and sending out their copy over teletype wires once they finished their stories.

"I was lucky to grow up in one of the greatest sports centers, and to have met some of the greatest sportswriters of our time," Saidy said, naming the late columnist Jim Murray of the Los Angeles Times as the most impressive.

His love of sports and all the excitement surrounding the contests, particularly hockey, stayed with young Saidy through his days as a student at Cal State Northridge and SDSU, where he obtained his degree in business administration in 1980.

But it wasn't until 1998 that Saidy began thinking seriously of making his longtime dream a reality.

That's when he witnessed his first arena football game in Phoenix and experienced a level of excitement that was rare for most major sports.

A big L.A. Kings fan, Saidy compared the atmosphere of arena football to what it's like for a Stanley Cup hockey game.

"It's loud; there was all this rock music. It was a party," he said.

The game itself, played on a hockey-rink-sized field indoors, was a celebration of scoring. For the record, the Phoenix Rattlers defeated the Milwaukee Mustangs, 62-61.

Saidy decided right then to bring the hyped-up version of football to San Diego. It helped that Saidy owned a successful business, Aer Travel, and was able to line up a couple of like-minded investors for the venture.

Three years later, Saidy got his dream. He and fellow investors put up about $1 million to get the Riptide going. The team is one of three new franchises in the 16-team arenafootball league2, an offshoot of the original Arena Football League, which formed 16 years ago. The Riptide will be playing in cities such as Bakersfield, Fresno, Wichita, Louisville and Honolulu.

Beyond the fact the players wear helmets and use the same football, af2 has little in common with the sport played in the National Football League.

The field is only 50 yards long; there are eight men on each side, and they play both offense and defense. If a ball goes into the stands, the fan who catches it gets to keep it.

But it's the proximity of the field and players that makes the arena game such a hit with fans, Saidy said.

"You can really hear what's going on and feel it. Even at the top row in the arena, you're closer to the field than you would be at the front row in Qualcomm Stadium."

Following every game, all the players are required to stay on the field to meet with fans and sign autographs.

Those players may be unknowns, but, who knows; there may be another Kurt Warner out there. The St. Louis Rams quarterback may be arena football's most well-known former employee, but about a dozen other NFL players played the indoor game as well, Saidy said.

Another huge difference between the af2 and the NFL are ticket prices. Riptide tickets range from $5 to $50 a game, with the highest price in the front row right against the padded sidelines of the San Diego Sports Arena.

Saidy said he's hoping the Riptide draw an average of at least 6,000 fans for the eight home games, which would be good enough to cover expenses and build for the future.

The Riptide have already done a good job in lining up sponsors, signing Viejas Enterprises, Budweiser, Hometown Buffet and Hooters. It is broadcasting games on KSDO-AM and is talking to a few local television stations for further exposure.

Seeing or hearing a game will provide some inkling to what af2 is all about, but Saidy was adamant in saying there is no substitute for seeing it live. "If you like a fast-paced, high scoring game with lots of noise, lights and in a fun atmosphere, you'll love arena football."

- - -

Sponsors Catch The Spirit: The San Diego Spirit, the local women's pro soccer team that opens its second season April 13, signed 26 business partners with total committed contracts of more than $400,000 as of last week.

"The business partnerships include both national and local businesses, and range from major corporations such as U.S. Bank and Nokia to several local doctors and hospitals," said Jana Steel, director of business development and strategic partnerships.

Depending on the deals, of which more than half are cash, partnerships may include commercial time on the game's Channel 4 broadcasts, advertising on the field or on the video boards, or VIP seating arrangements, Steel said.

"We don't have one set of deals and are always thinking outside the box to put something together," Steel said.

Any way you look at it, so far the Spirit has been a big success at their home field at USD's Torero Stadium.

Last year, the team drew about 65,000 fans, including five sellouts in 11 home games. This year, the Spirit has already exceeded last year's season ticket number at 2,300 and is hoping its improved stadium brings even more fans to its 12 home games.

Cox Enterprises, the Spirit's owner, spent $3.5 million to add new video boards and more than 500 seats to the stadium, bringing capacity to 7,035.

Tickets for Spirit games range from $12 to $20.

- - -

Padres Lag On Season Tickets: Perhaps it's the economic doldrums, or their fourth-place finish last season, but the Padres' season ticket sales are about 11,000 as of last week, below last year's total of about 12,000.

"We're still selling season packages and will be until May," said Jenifer Barsell, the Padres' director of marketing.

Last season, total attendance at the Q hit about 2.3 million.

This season features games against American League powers the New York Yankees, Boston Red Sox and Seattle Mariners, as well as the usual lineup of promotional dates with giveaways ranging from refrigerator magnets and pins to mesh batting practice jerseys and baseball caps.

The promotional dates include 13 home Saturday evening games featuring gifts for all fans and 13 home Sunday games with giveaways geared to kids. Among the new promotions this season are College Night on May 3; American Pride Week, June 14-23, coinciding with the appearance of the AL teams; International Weekend, Aug. 2-4; and Mascot Day, Aug. 25.

The Padres' home opener is April 8 against the Arizona Diamondbacks, which launches a nine-game home stand.

- - -

Local Firm Works In Philly: San Diego-based U.S. Laboratories Inc., a construction and engineering consulting firm, is providing its services to the Philadelphia Phillies on the construction of its $346 million ballpark scheduled to open in April 2004. U.S. Labs-owned subsidiaries worked on the Philadelphia Eagles new stadium, which is under construction next to the ballpark, and a training site for the National Hockey League's Philadelphia Flyers. Both the Phillies' and Eagles' contracts are worth more than $1 million, said Dickerson Wright, U.S. Labs' CEO. Other sports facilities USL-owned subs are providing engineering services for include those at Princeton and Rutgers universities in New Jersey; Giants Stadium; and several Northeastern minor league baseball franchises. Although it isn't a contractor for the Padres' new ballpark, the firm did work on the Qualcomm Stadium expansion.

- - -

Golf Links: Steele Canyon Golf Club in Jamul is going to a private membership club and counts 93 members already.

The first 60 founding memberships went for $25,000, but for each successive set of 20 the price increased by $2,000. The initial 57 memberships were subscribed by the residents of Steel Canyon Estates, the residential community surrounding the course. Members don't pay greens fees, but do pay monthly maintenance fees of $300 for individuals, and $350 for families; and get 21-day advance booking compared to the public's seven day advance scheduling. The memberships are fully refundable once a set increase in new members is met. Barona Creek Golf Club, which opened about a year ago, was recently named one of the top 10 new courses by Golf Magazine.

Send sports business stories to mallen@sdbj.com.