Ex-Pacific Commerce Exec Plans New South Bay Bank
Monday, April 1, 2002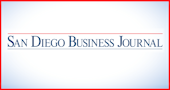 Ex-Pacific Commerce Exec Plans New South Bay Bank
Southwest Bank's Growth Spurt Spurs $5 Million Stock Issuance
FINANCE
by Mike Allen, Senior Staff Writer
Hoping to capitalize on what they say is a desire by many customers for more personal service, a group in the South Bay is organizing a new community bank in Chula Vista.

"We've been hearing from a lot of people who miss the kind of service they received at Pacific Commerce Bank, and we're forming a bank that's going to bring that to them," said Larry Benthien, a former PCB banker and director, and Chula Vista businessman.

Bethien has lined up a group of seven other business people, all in the South Bay, and expects to file an application with the state's Department of Financial Institutions shortly. The proposed name for the bank is Coast Commerce Bank.

The organizing team so far consists of South Bay county Supervisor and former Chula Vista Mayor Greg Cox; Bruce Nunes, a former banker with the Bank of Commerce; Bob DePhilippis, owner of the Filippi's Restaurants; Libia Gil, superintendent of the Chula Vista Elementary School District; Mark Greene, an auto dealer; Carl Hemesath, a dentist; and Lane Pearson, owner of San Diego Dodge in National City.

The group expects to raise between $6 million and $8 million in capital and open the bank in the fall, Benthien said.

A site for the bank in central Chula Vista is being negotiated.

Benthien, the owner of a mobile home sales business, was in banking for 26 years, including three years as executive vice president at Pacific Commerce and spent six years on PCB's board of directors. Pacific Commerce, which was grew about $70 million when it was sold to Scripps Bank in 1998, was acquired by U.S. Bank in 2000.

- - -

Southwest Stock Offering: Southwest Community Bank continues to grow, and will soon issue $5 million in stock to make that happen.

"We need the capital to fund our continued growth," said CEO Frank Mercardante.

The four year old bank filed an application with the state's Department of Financial Institutions last month and should get its permit by the end of April to conduct the offering, Mercardante said.

The exact price on the stock won't be known until just before the offering happens but should be close to the $22 it traded at March 26 on the over-the-counter bulletin board, he said.

This is the third time Southwest Community has issued stock for capital funding. The bank was founded in December 1997 with $5.5 million in capital. The following year, it raised an additional $1.25 million to launch a subsidiary firm, Financial Data Solutions, which provides check processing. And in 2000, it raised $2.5 million to expand its branch network.

Based in Carlsbad, Southwest Community has five branches and $123 million in assets as of Dec. 31. It earned $893,600 last year compared to net income of $725,900 in the prior year.

- - -

Former Fallbrook National Moves: Community National Bank used to be called Fallbrook National Bank but it changed its name in 2000, and last month moved into new corporate headquarters in a newly built building in Escondido.

"It has certainly made us a lot more accessible. We're right off the freeway now," said CEO Tom Swanson about the 32,000-square-foot building at Ninth Avenue and Canterbury Place.

Community National operates one of its five branches on the bottom floor of the building and uses most of the remaining two floors to house its corporate operations and some 70 employees. It also leases some 5,000 square feet to other tenants.

Swanson said the bank originally planned to stay in Fallbrook but couldn't find any property that could accommodate at least 20,000 square feet. Before selecting Escondido, the bank considered possible sites in San Marcos and Carlsbad, Swanson said.

The building, which features polished stone and glass, cost $6.5 million and took eight months to complete.

Community National, with $370 million in assets, has branch offices in Fallbrook, Temecula, Escondido, Bonsall and Vista. It also has seven loan production offices in the Los Angeles, Sacramento, the Inland Empire and San Francisco.

- - -

First Fidelity To Sell: First Fidelity Bancorp, a Tustin-based industrial bank with two offices in San Diego, agreed to be purchased by Hawthorne Financial Corp., a $1.8 billion commercial bank based in El Segundo.

Hawthorne agreed to pay $68 million in cash and stock for First Fidelity, representing 1.58 times First Fidelity's book value of $41 million as of Dec. 31.

Founded in 1967, First Fidelity has four offices and total assets of $617.8 million. It had net income of $9.8 million for 2001, giving it a return on assets of 1.62 percent.

Hawthorne expects the transaction to close in the third quarter. The company said it has been increasing its lending in San Diego and Orange counties, and the addition of First Fidelity's branches should boost those efforts.

- - -

Purchase Completed: While it has little impact here, BNP Paribus, the largest banking firm in France and owner of Honolulu-based Bank of the West, completed its acquisition of United California Bank, based in Los Angeles and with $10.5 billion in assets. United California has 115 branches, including two in San Diego.

United California's branches will be fully integrated into Bank of the West's branch system, more than doubling its size.

Bank of the West now has $34 billion in total assets and more than 350 branch offices in California and six other Western states, Guam and Saipan. With some $15 billion in deposits, BofW now ranks fourth in the state in deposit market share, the company said.

BNP purchased United California from UFJ Bank Ltd., which was created in Japan in January with the merger of Sanwa Bank and Tokai Bank.

- - -

Aiding Nonprofits: Thirty-six San Diego nonprofit educational and community groups were recipients of the $729,550 in donations by the Bank of America Foundation as part of the foundation's total contributions of $19.4 million to all statewide organizations in 2001, the bank said.

Among the local nonprofit groups receiving donations are the Educational Leadership Development Academy, the Old Globe Theatre, YMCA of San Diego County, Metropolitan Area Advisory Committee on Anti-Poverty of San Diego Inc., and the San Diego Urban League.

The foundation also provided a $3.2 million national grant for its Fitness for Life program, a comprehensive personal finance curriculum.

- - -

Profit Drop: Bank of Coronado CEO Bill McLaurin blamed a 70 percent drop in the bank's 2001 net income on the decrease in the prime lending rate that affected the great bulk of its portfolio, and the opening of a new branch office in Downtown San Diego last year.

Net income for 2001 was $255,000, compared to $850,000 for the previous year.

Total assets were down to $69 million as of Dec. 31, compared to $77 million in the previous year, but net loans grew 15 percent over the same time to $58.4 million.

Because of the lackluster earnings, the bank's board suspended its fourth quarter dividend, the first time it has done so in four years, McLaurin said.

- - -

Bank Notes: California Bank & Trust received an outstanding rating from FDIC for its community reinvestment activities. North Island Financial Credit Union opened its 10th branch office in Chula Vista last month at the South Bay Marketplace. NIFCU also received two awards, leaders in work-life and San Diego's best places to work, from the Work-Life Coalition of San Diego last month. Consumer Credit Counseling Service of San Diego and Imperial counties is providing credit counseling services inside San Diego National Bank's San Marcos and Escondido branch offices.

Send any finance and banking news to mallen@sdbj.com.