Profile MaeLin Levine displays business sense and gift for teaching
Monday, September 24, 2001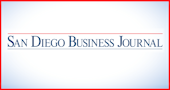 Title:
Principal and Creative Director, Visual Asylum
Education:
BFA in graphic communications design, University of Denver
Age:
41
Residence:
Normal Heights
Birthplace:
Leadville, Colo.
Hobbies:
Swimming, sewing
MaeLin Levine Also Displays Business Sense, Gift for Teaching
When MaeLin Levine was a business major at the University of Denver, a statistics class proved to be her undoing.
It came after falling asleep through the same 7 a.m. accounting class for three semesters, and going through other courses such as business law and economics, she said.
"I ended up changing my major and dropping statistics because I couldn't get it. Statistics just broke me," Levine said.
It took only one design class to change her perspective.
"It was just so creative," she recalled. "I felt right at home."
The professor, who quickly became a mentor, owned her own design firm. Levine decided she wanted to follow the same path.
"It became a tangible career choice that was sort of in between both worlds , business and being a creative person," Levine recalled.
Talented Designer
Her story turned out to be even more similar to that of her mentor. Along with co-owning local studio Visual Asylum with her sister, Levine teaches design at City College.
Levine is well regarded in the local community. She's known for her involvement in the local industry, organizing conferences to bring in top speakers, and for her firm's creative pro bono work. Levine was president of the local chapter of the American Institute of Graphic Arts until her term ended in June.
"She is an impassioned champion of design, more so than maybe anybody else in town that I have seen," said David Conover, who owns design studio Conover in San Diego. "She's at the forefront of trying to make everyone recognize its power, that's for sure."
Conover's known Levine since she moved to San Diego from Denver in 1987.
"Obviously, we were all about 15 years younger, and knowing less about the business of design maybe that we do now," he said. "Certainly, she had the same sort of personality and the same sort passion for design as she does today. She's pretty consistent."
He later added, "She has a great laugh."
That sound rings good-naturedly as Levine, now 41, recalls her years as a business student, before earning a bachelor of fine arts degree in graphic communications design.
Keen Business Sense
Her business ability turned out to be sharper than she would have guessed. However, as a creative person, she had to come to it from a more tactile, real-life perspective, Levine said.
Visual Asylum, which designs identities, interiors and marketing materials for companies, had sales of $1.3 million last year. Levine is expecting similar figures for 2001.
Considering the current economy, she's pleased her company is holding steady.
Seated in the conference room of Visual Asylum's Little Italy offices, a place that seems to bloom with colors like lime green and an orangey shade of red, Levine was taking a break between projects.
It was a Monday morning, and Levine was working on a presentation for Palomar Pomerado Health for a community newsletter that's part of an extension to the company's current identity program.
According to Conover, Visual Asylum's work is distinctive. "They have a lot of whimsy and a lot of color to them," he said.
Levine's influence is as identifiable, "just with the way she lives," Conover said, mentioning Levine's house, painted a deep "passion fruit"-red hue, and what he calls her "fashionably eclectic" style of dress.
"She's got a lot of character in the way she designs her life," Conover said.
Another project Levine's working on is the University of San Diego's fundraising campaign for a new science building.
Esther LaPorta, USD's executive director of development, asked Levine to design a corporate brochure.
With Levine's help, however, the project evolved into creating a journal of what the university's science department had accomplished.
"We discovered along the way that they needed actually more than a corporate brochure that would go out and tell people about the building itself," Levine said.
" The story was really about the work that's being done in these less-than-desirable facilities, that they have very powerful professors and students are doing really well," she said. "Those stories were revealed to us the more we dug."
Attention To Detail
For LaPorta, the shift toward a more creative approach was no surprise. She's been hiring Levine for projects since 1990.
"MaeLin becomes a partner in what you're doing on the project," she said. "It also elevates your creativity because she asks very probing questions that help you arrive at the core of what you want to say."
While still in school, Levine worked at a design firm in Denver as a fill-in receptionist.
It was a firsthand view of how a design firm was operated, a chance to see how meticulous the leadership had to be to satisfy clients and succeed, she recalled.
At the time, the firm's principal was president of the area's art directors club, so Levine also learned the value of becoming part of the design community.
She joined the group herself after graduation.
Levine then worked for an advertising agency in the city for two years and found that that kind of marketing work wasn't for her.
It was then, in 1987, that Levine quit and decided to move to San Diego. She didn't know anyone in town except for a classmate who was moving here at the same time.
The classmate, David Jervis, became her first business partner. They started Visual Asylum.
For four years, they struggled to build the business. In the meantime, Levine's sister, Amy, who had moved to San Diego and was working at Conover, joined the firm.
In 1991, MaeLin and Amy bought out Jervis.
A little more than a year ago, a business consultant helped Levine and her sister create strategic plans. Among those plans was a concerted effort to better market the firm itself.
Since then, Visual Asylum has begun sending out examples their work , the work they'd like to do more of , and distributing it through a mailing list of businesses.
The campaign succeeded in revitalizing interest in the firm, she said.
Eye-Opening Experience
One area Levine would like to further develop as a Visual Asylum specialty is women-to-women marketing.
She first encountered the niche when working for client Women's First Healthcare, a company that sells products and services for women in mid-life.
The client first wanted to do a newsletter, and had planned to use stock photos.
Levine was surprised to find that while women in their 30's were photographed as young, vibrant and working, it wasn't the same for women in their 40's or 50's.
She had to hire a local photographer and style a set of images for the client.
"What we learned in that process was that there's a real need for effort, thought, concentration being put into how these particular women are marketed to," Levine said. "It was great to learn about this demographic."
At Home In The Classroom
As Levine and her sister continue to hone Visual Asylum's focus, Levine continues to distinguish herself in the classroom, where her interest in design was first sparked.
According to Candice Lopez, a City College professor, Levine is a popular teacher. Many of her students' projects are recognized in prestigious competitions, Lopez said.
She said Levine has helped increase the quality of graduates from the program.
"She has a gift for teaching and she makes students rise to a higher level of expectation," Lopez said. The same is true with Levine's employees and other members of the design community, she said.
"You just pull yourself up by the bootstraps when you're around her," Lopez said. "You just really want to have a vision and go beyond She really instills that vision in people, that belief. That's a really rare quality to have."