High-Tech EdMin.com buys firm on East Coast
Monday, September 17, 2001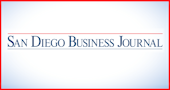 Cymer Makes Inroads In Asian Marketplace
Teachers, administrators and other people who have an interest in schools will be hearing a lot more from San Diego-based Edmin.com.
The company sells Web-based services to school districts coast-to-coast. Recently it acquired another company that serves educators and parents , but in a different way.
The company is online publisher Education World of Wallingford, Conn. Edmin.com bought the unit from American Fidelity Group, an Oklahoma insurance company, in an all-stock deal.
The value of the transaction was not disclosed. As part of the deal, the insurer's chairman, Bill Cameron, gets a seat on the Edmin.com board.
The site at (www.educationworld.com) includes articles, lesson plans and a search engine with links to pre-screened, education-related content. Education World has 10 employees. Layoffs are not anticipated, said Edmin.com President Clayton Hoyle.
Edmin.com's flagship business is its collection of Web-based services for schools. They include an Internet-accessible data warehouse for student records, and Web-based ways to communicate among the administration building, the classroom and the home.
Hoyle said the acquisition will boost the San Diego company's profile on the East Coast.
Edmin.com has 65 employees. Hoyle said he wants to reach 100 by year-end.
- - -
Laser Focus:
San Diego laser-maker Cymer, Inc. is making strides in the Far East.
A South Korean chipmaker that uses its products is the first company to put Cymer's diagnostic software to work.
Samsung Electronics Co., Ltd. of Seoul, South Korea, is monitoring its laser machinery with the tool, called CymerOnLine. The software gives a technician almost real-time diagnostic information from a laser, no matter where the technician is.
The product helps the factory anticipate and schedule maintenance on the laser. Cymer calls it an efficiency booster. Other leading chipmakers are beta testing the product, the Rancho Bernardo company reported.
In other news, Cymer announced it had installed its 100th deep ultraviolet laser light source in the Singapore and Malaysia region.
Columnar Components:
MusicMatch of Rancho Bernardo has announced a two-year extension of its contract to put its jukebox software into Hewlett-Packard Co. personal digital assistants. The software, which allows computer users to play MP3-format sound files, also goes in other HP computers. More than 10 million copies of the music software has shipped on HP products over the last two years. XM Satellite Radio could not test-market its 100 channels of music, sports and talk to San Diego without the help of local electronics retailers. After all, a listener needs a special radio to pull in the signal on the 2.3 gigahertz band. Satellite radios from Alpine, Pioneer and Sony have been selling at stores like Al & Ed's Autosound, Best Buy, Circuit City, Good Guys, Progressive Mobile Electronics, San Diego Car Stereo, Sears and Tweeter. XM also has a deal with General Motors to put the radios in their products. XM's other test market is Dallas. The Sunkist orange growers' cooperative has signed up San Diego-based Interactivate to do online marketing and Web design. Limited e-commerce (selling unspecified Sunkist-brand merchandise) could also be in the picture, Interactivate said. The 108-year-old Sunkist marketing cooperative encompasses 6,000 citrus growers in California and Arizona. SGI Inc. of Mountain View (formerly known as Silicon Graphics) is a new industrial partner for the new telecom institute shared by UCSD and UC Irvine, called Cal-(IT) & #731;. The computer maker has already invested $210,000 in the institute by installing a visualization system at the Scripps Institution of Oceanography. At first, researchers will use the new equipment to monitor and visualize seismic signals gathered in real time over a wireless network. Cal-(IT) & #731; is UCSD's abbreviation for the California Institute for Telecommunications and Information Technology.
Send high-tech news to Graves via e-mail at bgraves@sdbj.com.