High-Tech Japanese firm begins trial of PacketVideo software
Monday, September 10, 2001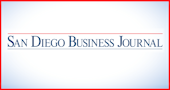 Wireless Conference Convenes Here Sept. 11
Telecom carrier NTT DoCoMo and several other Japanese companies will soon begin field trials of a technology from another Pacific Rim player: San Diego-based PacketVideo Corp.
Specifically, the carrier will harness PacketVideo software to let it send streaming video over its wireless telecom network to multiple receivers. Technologically, that's a step up from one-to-one video communication.
A recent test of the product went well, the two companies reported.
The trials will begin in October, the same month NTT DoCoMo plans to roll out an advanced, next-generation wireless network that can better handle streaming video.
PacketVideo announced some 31 corporations and organizations will help conduct field trials of the technology. They will use live and archived video, delivered to telephone handsets as well as wallet-sized personal digital assistants.
Here the technology will be tested in applications like home security, child-care monitoring and traffic monitoring.
- - -
A Hot Tech Ticket:
You don't need to go far this week to get an excellent overview of what's going on in wireless communications and the unplugged Internet.
Some 350 companies will have their products on exhibit Tuesday through Thursday, Sept. 11-13 at the San Diego Convention Center. The occasion is the Cellular Telecommunications & Internet Association show.
Serious students of the topic, from executives to information technology managers, may want to consult the conference's schedule of classes.
Big-name speakers are promised for all three days. For information, go to (www.wirelessIT.com).
This Trip Packs A Wallop:
As you read this, adventurers with a group called Hummer Expeditions are taking a civilian version of the Humvee on a punishing, 11,000-mile ride through Southeast Asia. The team isn't local but the technology they've packed is.
San Diego-based Quake Global has provided a satellite modem , more often used on vessels or heavy construction equipment , for the adventurers' Hummer. The device will provide the vehicle's location via global positioning system and offer e-mail service for the team.
The expedition's path runs from Singapore to Malaysia, Thailand, Cambodia, Vietnam, Laos, Myanmar, Bhutan, China and Tibet, ending in Bombay, India.
Team members had the good sense to choose the Quake product that comes in the extra-rugged case. More information on the trek is available on the San Diego company's Web site at (www.quakeglobal.com).
- - -
Smut-Buster Software:
PC Magazine has given an Editor's Choice award to St. Bernard Software's iPrism Internet filter appliance.
Filters prevent people who are poking around the Internet from getting access to Web sites the computer owner finds objectionable. San Diego-based Internet Products, Inc. used to make iPrism. Rancho Bernardo-based St. Bernard acquired the product when it acquired the company in December.
Cybersitter 2001 from Santa Barbara's Solid Oak Software was the only other filter to get an award from PC Magazine's editors. The magazine's comparison of 13 products is slated for its Sept. 25 issue, though it's viewable on the Web now.
Columnar Components:
San Diego-based Leap Wireless International, Inc. has launched wireless telecommunications service in its 27th market: Boise, Idaho. Hi-Q Materials, Inc. of El Cajon has signed a strategic alliance with Meltronix, Inc. of San Diego. Hi-Q is a supplier of high-tech materials and equipment. Meltronix develops and manufactures microelectonic assemblies.
Send high-tech news to Graves via e-mail at bgraves@sdbj.com.