Electric-Powered Car Designed for Urban Use
Monday, September 10, 2001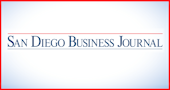 A San Diego Ford dealership is now offering a zero-emissions electric-powered car for lease.
The two-seater TH!NK City is made by the TH!NK Group, a Carlsbad-based enterprise of Ford Motor Co. Locally, the car is available exclusively at Pearson Ford in San Diego.
Steve Bimson, spokesman for Ford and also the chairman of the San Diego Regional Alternative Fuel Vehicle Coalition, became the first private citizen in California to take possession of a TH!NK City.
The TH!NK City is designed for use in and around cities. It has a top speed of 56 mph and can travel 53 miles on a single charge. The small car is very quiet and produces no emissions, he said.
"This new electric car fits into a nice niche that not only makes sense economically, but also environmentally. It's a pleasure to drive, easy to park and is just plain fun to experience the new TH!NK City," Bimson said.
Mike Lewis, who handles sales of the TH!NK City for Pearson Ford, said the car is nearly maintenance free and also inexpensive to use compared to gasoline vehicles. Currently, the cost of operating an electric vehicle is just three cents per mile, compared to about ten cents per mile for a gasoline-powered vehicle.
The TH!NK City currently leases for $200 per month for three years with no money down. With each lease of a new TH!NK City, the San Diego Regional Alternative Vehicle Coalition provides a $1,000 rebate, Lewis said.
Pearson Ford has received 23 TH!NK City cars and more than half have been reserved for lease, he said.
Next fall, the TH!NK City and other zero-emissions vehicles will be demonstrated and sold at the nation's first Regional Transportation Center, a $7.9 million facility designed to educate people about the benefits of alternative fuel vehicles.
The facility, on El Cajon Boulevard at Interstate 15, will house an education center visited by 20,000 middle and high school students annually, Bimson said.