Real Estate Developers tout advantages of living Downtown
Monday, September 3, 2001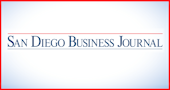 Real Estate: As More Units Come Online, Builders Eye 'Empty-Nest' Couples
Condominium developers Downtown say they are selling more than homes; they claim they're selling a lifestyle.
It's apparent in the brochures and on Web sites that show couples dining at curbside restaurants, people walking home with handfuls of shopping bags, and employees marching purposefully to work a few blocks from their new home.
"There's a lot of people who want the urban lifestyle," said Keith Fernandez, president of Intracorp, a San Diego-based development company working on four condominium projects Downtown.
Over the next three to five years, 8,600 housing units are expected to be built Downtown, many of which are condominiums. Derek Danziger, communications manager for the Centre City Development Corp., the city's redevelopment agency for Downtown, said so far, empty nesters , baby boomers whose children have flown the coop , young urban professionals, and senior citizens have shown the most interest in living Downtown.
The goal is to keep people who work Downtown, living Downtown and off the congested highways, Danziger explained.
Intracorp has seen a variety of buyers at its properties from various parts of San Diego. The largest group has been empty nesters between the ages of 46 and 55, according to Sue Ritchie, Intracorp's director of marketing.
The second largest group of buyers has been young professionals, ranging in age from 26 to 35 years old. The third group consists of business executives, some of which are retired or semi-retired, Ritchie said.
Moving On Up
Vancouver, B.C., Canada-based Bosa Development Corp. has sold all but four of the condominiums in its 221-unit, 23-story Horizons in the Marina District.
Dennis Serraglio, director of sales and marketing for Bosa said the buyers are primarily empty nesters over 50 years old, many of whom are buying summer or weekend homes.
At Bosa's 199-unit Discovery at Cortez Hill on the north side of Beech Street between Eighth and Ninth avenues, 126 units have been sold.
"The suites are a little smaller, a little more affordable," Serraglio said. People already living Downtown are moving up to new units, he said.
Meanwhile, Park Place, a 30-story, 187-unit tower also in the Marina District, seems to be attracting buyers primarily over 50. Many of them already own property Downtown, Serraglio said.
San Diego-based CityMark Development, a residential and mixed-use development company formed in 2000, has two projects under way Downtown, CityMark at Cortez Hill and Doma.
"A lot of people can and want to work out of their homes," said Russ Haley, vice president at CityMark. The live/work units in Doma provide street-level offices with separate living spaces for people working out of their homes. Half of those units have been reserved.
Haley said CityMark is seeing interest in its projects from all different age groups, but none of the buyers has children , so far.
"This type of living is geared more toward the active lifestyle of adults," he said.
Construction began in December 2000 on Vancouver-based Intergulf's Treo@Kettner. About 80 percent of the units in the 24-story, 330-unit tower have been sold, according to sales representative Michael Chious.
Target Market
Prices for the remaining units range from $278,000 for a one-bedroom unit on the 17th floor and $1.7 million for a two-story penthouse.
"We've seen two main buyers: The younger professionals are buying up the one-bedroom units and empty nesters are buying the bigger units," Chious said. "The younger buyers work Downtown and enjoy the ease of going to work or dinner without getting in their car."
Marketing often starts early as lenders are requiring developers to have 40 to 50 percent of the units sold before granting the construction financing, Fernandez explained. Intracorp maintains a Downtown condominium sales center across Market Street from its nearly completed 57-unit 235 on Market.
Intracorp's four projects are in the Marina and Little Italy neighborhoods. At the 53-unit Pacific Terrace, where construction began in mid-August, 40 reservations have been taken.
For Intracorp, signage has been the initial means of marketing, followed up with advertising in local publications and housing supplements, direct mail and contacting people on a friends and family list, Fernandez said. Intracorp has also experimented with radio advertising and has a display set up in the Lindbergh Field.
On-site signs has been a major marketing tool for all the Downtown condominium developers. Local advertising has been a source of leads for Bosa and CityMark also.
Like Intracorp, Bosa has used direct mailing, targeting residents Downtown, in Hillcrest and up the coast into La Jolla and Del Mar.
Most of the sales at Treo@Kettner have come from word-of-mouth as well as signs on the site, Chious said.
Selling 'Fun'
CityMark plans to open a sales center near the Doma site soon.
"Urban living and even urban marketing is new to San Diego," Haley said. "We're trying to make the experience fun , that's what Downtown's about."
Doma will be in Little Italy on Kettner Boulevard, between Date and Fir streets. The 121-unit complex has two buildings, an eight-story loft building and four-story townhome building. Prices range from $250,000 to $650,000 for the one- and two-bedroom units. CityMark began taking reservations in June, and so far 40 have been reserved. Construction is expected to begin in October.
CityMark's Cortez Hill project consists of 16 townhouses with back yards and rooftop balconies priced from the high $300,000s to low $500,000s.
Marketing through design and pricing also helps generate condominium sales.
Upgraded appliance packages and finishes are discussed after the initial contract is signed at Intracorp's properties.
"The more upgrades, the more likely they are to follow through," Fernandez said.
Parking, balconies and storage have been big concerns for residents, Fernandez said. With so many people moving from large houses into condominiums, storage is important.
Haley said as many street-level entrances to the buildings as possible are included, as well as distinct finishes, ample storage space and detailed kitchens.
"Private outdoor space is very important," Haley said. Each unit at doma has its own balcony and the building has a rooftop deck.
Intergulf attempted to attract buyers to Treo@Kettner through variety. The project's design includes units in the main tower, some less expensive units in a five-story portion of the building, and some ground floor townhomes.
Fernandez describes Intracorp as "price point-conscious." Units range in size from one-bedroom to two-bedroom-plus-den units, mostly in the $200,000 to $500,000 price range.
Affordability is an issue the CCDC is beginning to address when it comes to for-sale housing Downtown, especially for people with moderate incomes.
"All of the developments that we're seeing downtown are expected to have some of the units priced in the low 200s , which is considered affordable in this market," said Dale Royal, senior project manager at the CCDC.
The challenge is producing units for people with moderate incomes, especially for-sale homes.
"It's very cumbersome and complicated to get price restrictions on for-sale housing," Royal said.
The CCDC is working on a first-time homebuyers program for homes priced at $225,000 and under. It is expected to start accepting applications during the first part of next year.
Through the program, the city would provide loans of up to $75,000 as a second mortgage. The loans would be interest free with no payments for five years. To qualify, a person must make $47,000 or less.
Royal said the CCDC believes that the program will prove to developers that there is interest in lower-priced for-sale units.