Letters
Monday, September 3, 2001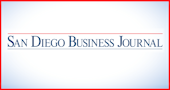 Wrong Forum
Editor:
Regarding Editor Martin Hill's column, "Deregulation Texas-Style: Where's John Wayne?" (SDBJ, Aug. 20):
Your political biases are not difficult to determine. But I don't believe they are appropriately aired in a business magazine. I am both a Texan and a Bush supporter. However, were I neither, I would still believe that such rantings have no place in your journal.
John Wayne would not likely come to your aid.
Cheri Pogeler
Encinitas
A SeaWorld Supporter
Editor:
SeaWorld's master plan is extraordinary for improving this wonderful San Diego landmark.
As much as we love SeaWorld, we understand the changes they want to make to stay competitive. I am writing to express my wholehearted support for SeaWorld's plan to improve our park.
SeaWorld means a lot to my family , all four generations of us. We know the park needs to change in order to stay competitive. The new master plan looks like an excellent one.
It meets the growth needs for the park while protecting and caring for the environment of Mission Bay.
The threatened litigations of the few people out there who oppose this enrichment of SeaWorld are very disturbing and unprofessional. They have the ring of our ballpark, which will now cost millions more than promised because of the delays and lawsuits.
SeaWorld is a major contributor to the improvement of water quality in Mission Bay. It returns water it uses to the bay cleaner than when it took it out and utilizes advanced water treatment for storm water runoff on the parking lots. It also has a major recycling program.
SeaWorld is bending over backwards to work with local communities. Please support the SeaWorld master plan.
Jack and Jean Kriege
Lakeside