Finance Redlands-based bank acquires Palomar Community
Monday, September 3, 2001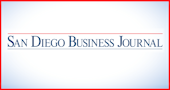 Bank of Coronado Stakes Claim Downtown
Palomar Community Bank has gone through some changes in the last few years, so the latest one shouldn't be that tough.
On Aug. 17, the Escondido-based bank was officially acquired by Centennial First Financial Services. The $10.5 million cash and stock acquisition announced last December merges Palomar with Centennial's single bank, Redlands Centennial Bank.
Palomar, founded in 1984, had been a savings and loan for 14 years before it was purchased in December 1998 by Community West Bankshares, a Goleta-based bank holding company. The following year, Community West decided it wanted to convert Palomar from a thrift to a commercial bank. Then last year, it signed a definitive agreement to sell the bank.
"We're still in a transition phase as far as converting our business from a thrift to a bank," said Darol Caster, Palomar's CFO. "About 75 percent of our loan portfolio is in mortgage real estate loans."
While its employees will have to adapt to new owners, Palomar's customers shouldn't see much change.
President Richard Sanborn said the Escondido bank will continue to be locally controlled and retain its name.
"Our ability to maintain local control of Palomar, while having access to Centennial's products, services and enhanced technology, can only be seen as a distinct benefit to the businesses and residents of north San Diego County," Sanborn said.
Palomar, with total assets of $79.4 million reported net income of $142,000 for the first six months compared to $135,000 for the like period of 2000. As of June 30 it had $54.8 million in net loans.
Redlands Centennial, founded in 1990 and with $109 million in total assets as of June 30, had a net profit of $418,000 for its first half, compared with net income of $394,000 for the like period of 2000. It had $67 million in loans.
In addition to its one office in Redlands, the bank has a branch in Brea and a SBA loan production office in Santa Ana.
- - -
Bank Of Coronado Expands:
Slow but steady, the Bank of Coronado keeps growing. Last quarter it expanded to its first offshore branch in Downtown San Diego at 550 West C Street.
Opening the branch wasn't something the bank did on whim, said President Bill McLaurin.
"We had been looking for the right spot for a while. We moved into an office that had been a branch of Peninsula Bank. It's right across from where Scripps Bank had an office once, and near the Bank of Commerce, both of which were taken over by US Bank. We thought the neighborhood was right for a community bank," McLaurin said.
The biggest expense with opening a new branch is the investment in people, and the new branch has seven employees, which brings the total for BofC to 46. Those expenses had a direct hit on the bank's profits for the second quarter along with slimmer margins caused by falling interest rates.
For the second quarter, BofC had net income of $197,000 compared to $436,000 for the second quarter of 2000. Total loans increased 13 percent to $52.2 million.
Nonperforming loans are minimal, with the total less than 1 percent of its portfolio.
McLaurin said although he's seeing signs of a downturn from some customers, particularly when it comes to energy costs, things aren't as bad as the recession years of the early 1990s.
The interest rate decreases have brought new business mostly in the form of refinancings for mortgage loans, but the downside is the bank's margins have slipped on the interest it pays for fixed deposits, and on the interest earned on fixed securities.
Worth List Includes Local Advisers:
Worth magazine, an investment monthly, came out with its annual list of the top 250 financial advisers for its September issue, and nine of them hang their shingles in San Diego County.
"It's kind of like the Oscars for investor types," said a publicist for one of the top advisers, Peter Wheeler, president for Wheeler/Frost Associates Inc., the investment firm he founded in 1982.
From his Bankers Hill office, Wheeler manages a portfolio of about $100 million.
According to Worth, those chosen for the distinction were managers who demonstrated their ability to think outside the Morningstar style box.
"The advisers on our list know how to manage risk, hedge against inflation and market volatility, generate income, and save on taxes (perhaps that's why the overwhelming majority outperformed the S & P; 500 in 2000)," according to Worth.
Also selected from San Diego County were Steven Carter of Carter Financial; Mary Katherine Dean of Dean Consulting & Associates; Charles Foster of Blankinship & Foster; Jim Freeman of Financial Alternatives; Richard Rojeck of Sagemark Consulting; Sheryl Rowling of Rowling, Dold & Associates; Carolyn Taylor of Weatherly Asset Management; and Ginita Wall, CPA.
- - -
Temecula Valley Recognized:
Temecula Valley Bank was featured in last month's US Banker, a trade publication, that ranked it first in profitability in the nation last year among banks between $100 million and $129 million in assets.
Temecula had net income of $1.2 million last year. Today, total assets are about $160 million.
President Stephen Wacknitz attributed the success to his loyal staff and to the Southern California economy. "I love banking. I love the challenge of it," he said.
ITLA Continues Streak:
ITLA Capital Corp, the San Diego-based parent firm of Imperial Capital Bank and Imperial Capital Real Estate Investment Trust, reported net profits of $4.7 million for its second quarter. That represents the 23rd consecutive time the firm beat its past quarterly net income.
The combined assets of the bank and the REIT were $1.42 billion at the end of June, which the company said is the largest financial services company headquartered in the county.
- - -
Community Bancorp Raises $3 Million:
Community Bancorp, parent firm to Community National Bank, which was called Fallbrook National, said it closed $3.1 million private placement in stock last month. The bank said the funds will provide equity capital it needs to reduce debt and continue its expansion.
The $326 million bank said it intends to cap its SBA loan portfolio at about 40 percent of the total portfolio to ensure diversification.
Send any banking and finance news to mallen@sdbj.com or fax it to (858) 571-3628.