Automotive Auto insurance technology firm Mitchell International plans acquisition of competitor
Monday, September 3, 2001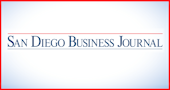 A San Diego company that speeds data between insurance companies and auto shops is acquiring a similar business in the Silicon Valley.
Officials at Scripps Ranch-based Mitchell International announced last week the company had signed a letter of intent to purchase Ensera Inc. of Redwood Shores.
Terms of the deal were not disclosed. As of last week the transaction was still being negotiated, said a Mitchell spokesman, adding the deal should close in several weeks.
Mitchell, which had 655 employees in May, reported revenues of more than $140 million last year. Ensera has 80 employees; its revenues were not immediately available.
There was no word on whether the sale would mean layoffs. In a prepared statement, Mitchell President Jim Lindner said the companies were planning to integrate employees, products and customers into Mitchell.
Both Mitchell and Ensera provide Web-based systems letting insurance companies, auto repair specialists and related companies trade information online and settle claims. Both companies say their systems speed up the claims process.
Mitchell builds its products on a database of auto parts and repair time estimates. Customers may buy that database independent of the claim-settling software.
While Mitchell traces its history to 1946 (when the company started collecting data), Ensera is a product of the Internet age. It was founded in 2000.
In its short life, Ensera has acquired Go Media Inc. and Autochex, according to the trade publication Collision Week.
There was no word on what would become of Ensera's founder and CEO, Anthony Aquila.
Mitchell is privately held, owned by Hellman & Friedman LLC of San Francisco.