People On The Move
Monday, October 22, 2001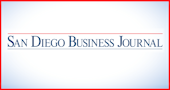 Banking and Finance
Donald A. Williams, a partner with Ernst & Young has been named Entrepreneurial Service Leader for the Pacific Southwest area. Dwanna Outlaw has joined Financial 21 Community Credit Union as manager, call center department.
Construction and Design
Renae Rock has joined Keeton Construction as business development coordinator. Mike Kennedy has joined Nolte Associates, Inc. as a project manager. Roel Construction Co. has hired Joe Prior as project engineer and Crystal Smith as administrative assistant. Louise Fern has been named controller for Sully-Jones Roofing Co. Sundt Construction, Inc. has hired Willis Locke as a project director.
High Tech and Manufacturing
ReadSoft, Inc. has appointed Bob Fresneda as president and CEO. The Titan Corp. has appointed Patrick Henry as CEO. Kevin Conlon has been promoted to president of Palomar Technologies, Inc. EDmin.com has appointed Dr. Thomas Jandris as president.
Government and Nonprofit
Ramona Walker has been named CEO of the San Diego Blood Bank. San Diego Regional Economic Development Corp. has appointed Bill Carney as vice president, corporate services. Anette Asher has been named director of programs for UCSD CONNECT. Carl Winston has joined San Diego State University as director of the Hospitality and Tourism Management Program.
Health care and Biotech
Scripps Health has appointed Victor Buzachero as senior vice president, human resources.
Insurance
David Whittington has been hired as senior vice president, underwriting at M.E. James Surplus Lines Insurance Brokerage, Inc.
Media and Marketing
Susan E. Atkins & Associates has hired Pamela Lord as senior account executive, Janeen Norberg Hicks as account executive and promoted Carin Canale to vice president.
Miscellaneous
The Executive Group has hired Laura Shine, Sharon Ferguson and Patrick Taylor, as vice presidents of corporate development and promoted Cynthia E. Kinsley to senior vice president, corporate development.
Real Estate
Richard and Diane Eisendrath have joined RE/MAX By-the-Sea real estate sales office as sales agents. Capstone Advisors has added Joseph Winkler as an executive asset manager.