'Musicians for America' to Record Benefit Album
Monday, October 15, 2001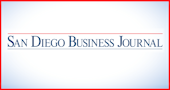 ENCINITAS , As the 18th century poet William Congreve once wrote, "Music hath charms to soothe the savage breast, to soften rocks, or bend a knotted oak."
So it's only logical an Encinitas-based singer and songwriter, moved by the horrific events of Sept. 11, is planning to use music to soothe and unite America together in this time of tragedy.
George Gregory has created San Diego Musicians for America, which will organize local tunesmiths to use music as outlet for their grief, as well as to express hope for the future. Profits from the venture will go directly to the victims of the terrorist attacks.
"The events of Sept. 11 left me in shock. Alternately, I felt horror, anger, helpless and the need to do something," he said. "I want to do something for America and the victims of this insanity."
As a labor of love, Gregory is inviting local musicians to submit original music to evoke "the hope, pride and joy that we all feel as Americans." These songs , along with an original composition by Gregory , will be collected for an album he will produce, with the profits from album sales going to the New York State World Trade Center Relief Fund, he said.
Artists who contribute music to the proposed album, tentatively titled "Stand Proud," would retain their rights to the music, while profits would be donated to the fund, Gregory said.
Gregory advises interested musicians to submit high-quality recordings, in CD or DAT format, to Stand Proud, P.O. Box 235269, Encinitas, CA 92024-6269. The package should also contain biographical information and pictures for inclusion in the album, he said.
Packages must be received by Nov. 15. The projected release date for the album would be Dec. 1 , in time for the Christmas season, Gregory said.
Gregory is looking for non-monetary donations to make the album possible , such as a source of blank CDs. He is also working with local record stores to carry the completed album. For information, call (760) 634-8171.