Health Care Cancer center to run trials for new targeted therapy
Monday, October 15, 2001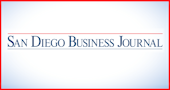 Vista Hill Benefits From 'Serengeti Splendour' Gala
Next spring, Dr. Albert Deisseroth hopes to test 24 melanoma patients with an experimental therapy that seeks out cancer cells like a guided missile, then kills them.
Deisseroth, president and CEO of the Sidney Kimmel Cancer Center in La Jolla said experimental therapy has a new approach and if successful in human testing, could be ground-breaking.
Yale University researchers Alan Garen and Zhiwei Hu designed the molecule so it would bind to the surface of the blood vessels in tumors and destroy them vs. conventional methods that seek to prevent the growth of new vessels.
"There are approaches that can stop the growth of tumor cells but they just recognize the growing vessels (and) not the majority of developed vessels," Deisseroth explained. "Our approach targets all the vessels that are in the tumor tissue, but doesn't target the vessels of the normal tissue (healthy cells)."
In laboratory tests in mice, the molecule killed tumors by destroying the blood vessels that fed them. In addition, the molecule made copies that spread through the body to attack other tumors.
Deisseroth admits good results in mice don't necessarily translate to humans.
"It's very difficult to predict what will happen when one takes a therapy from the mouse into a human being," he said.
The cancer center will work with Sharp Healthcare to identify patients that are the most likely to benefit from the therapy.
Deisseroth however, needs to get approval from the Food and Drug Administration before he can begin human trials.
Once approved, patients would begin therapy of six injections every three days.
The injection involves a crippled virus that has been programmed to make the therapeutic molecule and send it through the bloodstream to attack all tumors. "By injecting one location, you can treat tumor modules all over the body," he said.
Participants include patients with recurrent melanoma after initial surgery who have failed immuno- and chemotherapy.
Deisseroth said the trials will aid multiple studies.
Researchers will also look at the DNA of the tumor tissue to identify change, so they can predict which patients are more likely to respond to the therapy than others, he said.
Scientists will also use technology to track blood flow and measure tumor size.
Deisseroth hopes the therapy will eventually be used to detect and treat a variety of tumors.
Yale retains the license to the therapy at least until after early-stage trials have been precluded, he said.
It will then decide whether to transfer the technology to a company for further development. The outlicensing of promising technologies by institutions to private companies as a means to raise the hundreds of millions of dollars needed to fund clinical trials has been a model for various successful biotech firms.
- - -
Gala Fund-Raiser:
Vista Hill, a local mental health care provider for families and teens with drug and alcohol abuse problems, is bringing an African "safari" to San Diegans.
At least in spirit.
"Serengeti Splendour" is the theme of Vista Hill's planned 12th annual gala event Nov. 10.
The event will start with a reception at 6:30 p.m., followed at 8 p.m. with dinner at the Hyatt Regency La Jolla at Aventine. For details, call Linda Jones at (858) 514-5153.
Send health care news to mwebb@sdbj.com.