Media XM Radio hits airwaves, modifies ad campaign
Monday, October 1, 2001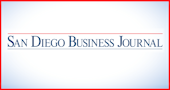 Media: Original TV Commercials Pulled in
Wake of Attacks
XM Satellite Radio's launch of services in San Diego and other cities was altered by the Sept. 11 terrorist attacks, and more changes are coming to the campaign.
The Washington, D.C.-based company officially began programming nationwide Sept. 25, after original plans were revamped. Services were originally planned to be started Sept. 12. The service costs subscribers $9.99 per month.
San Diego and Dallas have been focal points for the launch, with the stereo equipment to receive XM programming currently sold only in the two cities.
Accordingly, the cities have also been the first markets for XM's extensive advertising campaign.
In August, the company had said it was spending $100 million to market its services.
The campaign will soon see more revamping, as XM and its advertising agency create new television commercials.
XM's original TV spots, which began airing in August, had images of instruments and records crashing down.
Sensitive Subject
Some of the commercials featured performers B.B. King, David Bowie and Snoop Dogg dropping from the sky and through buildings, landing before surprised office workers, and then looking up as if to wonder what brought them there.
The terrorist attacks and the destruction that took place at the Pentagon and the World Trade Center, in particular, instantly made those images unsuitable.
Even after other television commercials began airing in the days after the tragedy, XM did not broadcast its ads. The company had immediately pulled and cancelled all of its television spots, said Robert Acker, XM's vice president of marketing.
After the terrorist attacks took place, the company also pulled its billboard advertising, but has slowly brought it back, Acker said.
Now, newspaper and radio ads continue to run but the television work is being revised, he said. The company's advertising agency is TBWA/Chiat/Day in Los Angeles.
He said the agency is evaluating what parts of the current campaign could still be used.
"We're currently finalizing what our plans are and what we're going to do as we change our campaign, and so it's going to be a number of weeks before those are revised," Acker said.
Not a Complete Loss
Acker did not want to discuss how much the changes would cost his company.
"It's hard to be very upset, given that all we have to do is change a campaign, which is small when considering the unimaginable things that others are having to go through," he said.
The previously shot commercials were not a complete loss, Acker noted. They had aired for two weeks on television, and had also run in movie theaters nationwide since Aug. 9, he said.
"I think we had fortunately gotten to the point where we had established our brand and established an interest in ourselves if we had had to pull all the TV advertising a week or two before, it would have been a much bigger concern," he said.
Also, retailers are now giving XM additional advertising exposure, he said.
Acker would not say how much his company was spending to advertise in San Diego.
Marisa Vallbona, a local public relations practitioner hired in June to handle XM's media relations in San Diego, completed the bulk of her XM work with last week's launch.
Vallbona, who runs CIM, Inc. out of her Kearny Mesa home, said the launch , linked by satellite to Washington, D.C. , to a press conference generated a "tremendous" response from media.
Because of the Sept. 11 tragedy, the event was considerably toned-down. "The original plan was a much more consumer-oriented event, something that had a lot of theatrics to it," Vallbona said.
Now, Vallbona's work with XM will focus on assisting its national firm, Costa Mesa-based Paine PR, with rollouts in Orange County and Los Angeles and further into the country.
Vallbona, who didn't disclose how much she was being paid for her XM work, is also having its media kit translated into Spanish and is working with Spanish-language media.