Market Local commercial real estate figures holding steady
Monday, November 26, 2001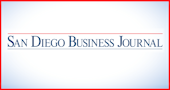 Due to solid fundamentals, the San Diego County office, industrial and R & D; markets are holding their own despite a slowing national economy.
San Diego commercial real estate markets are more stable than most major markets in the United States. Even though net absorption in all sectors is down from the record-breaking years of 1999 and 2000, vacancy rates are fluctuating only slightly. The increases we are seeing are not unexpected following the large amount of new space that has come on line since 1999.
Companies clearly are taking a more cautious posture given today's economic and political climate. However, this is being reflected in expansion plans being scaled back or postponed, rather than being cancelled altogether.
The good news is that the San Diego office, industrial and R & D; markets are not overbuilt like they were in the early 1990s. Many firms in our diversified economic base are continuing to grow, and this will help minimize any significant increase in vacancy rates.
The most recent studie shows that the San Diego County office market recorded 320,000 square feet of net absorption during the third quarter, bringing year-to-date activity to 710,000 square feet. By year-end, net absorption of office product is expected to reach approximately 1.2 million square feet, compared to a record 4.6 million square feet of net absorption in 2000.
This projection assumes that the 548,000 square feet of space that is under construction and preleased is completed and occupied by the end of the year.
- Vacancy Rates Slightly Higher
Despite the overall slowing in net tenant activity, the San Diego County office vacancy rate stands at 10.7 percent. This compares to an average office vacancy rate of 9.6 percent during the five-year period beginning in 1996, the year the real estate recovery began.
Vacancy rose just one percentage point during the third quarter due partly to 362,000 square feet of newly completed construction that has not yet been absorbed. The current rate compares favorably to the 13.9 percent rate we saw at the start of the recovery, and is on par with the 10.1 percent vacancy rates reported in 1997 and 1999. It is well below the 25.8 percent vacancy rate recorded in 1991.
As we evaluate these statistics, it is important to remember that the San Diego County office market has seen the addition of 10.7 million square feet of new space since 1996, including what is currently under construction. The San Diego County office market was not prepared for the pent-up demand for space that occurred following the real estate recession of the early 1990s.
As a result, we saw vacancy fall to a mere 6.5 percent as the market waited for the much-needed new supply to become available. This was an unusually low rate by any market's standards.
Studies show that 930,000 square feet of new office space has already been completed this year. There is another 2.3 million square feet of space under construction, 58 percent of which (1.4 million square feet) is expected to be complete in the fourth quarter and is 40 percent preleased.
The 2.3 million square feet of new office inventory being completed this year compares to 3.3 million square feet in 2000. If absorption remains low, San Diego County office vacancy could increase to 13 percent by year-end , a rate comparable with 1996.
The Carlsbad and Sorrento Mesa office submarkets report the highest vacancy rates in the county, at 21.8 percent and 20.8 percent, respectively. While San Diego was fortunate not to have had a high concentration of dot.com firms like other areas of California, the firms we did have were located in these markets.
- Biotech Outgrows Torrey Pines Mesa
Torrey Pines, on the other hand, reports a mere 1 percent vacancy rate (virtually non-existent) as the booming biotech industry struggles to find space to meet growth requirements. As the supply in Torrey Pines is being depleted, future biotech/lab space demand is spilling over into nearby Sorrento Mesa and Sorrento Valley, helping to stabilize those markets. Most of this spillover activity is occurring in one-story or mezzanine-style buildings that are easily converted.
Carlsbad is nearing the end of its office construction cycle which added 306,000 square feet , or 12 percent of its total inventory base , over the past four years. This will give the area a chance to absorb its existing inventory.
The San Diego County industrial market has absorbed just over 1.04 million square feet of space so far this year. By year-end, the market should close with 1.2 million square feet of net absorption.
This is a respectable level of activity, given current world events and when compared with the record 4.6 million square feet of net absorption that this sector posted last year.
The current industrial vacancy rate of 9.3 percent is up just one percentage point over 2000, and well below the 13.5 percent vacancy rate reported in 1999. Approximately 1.7 million square feet of new industrial space was completed during the first three quarters of the year.
Another 403,440 square feet of new space is expected to finish construction by year-end , 43 percent of which is already spoken for. As a result, vacancy should remain stable for the next three months and begin to decline in 2002.
With 33 percent of the 452,320 square feet of new space that will be completed next year already preleased, and with the decline in building activity, we expect the industrial vacancy rate to remain fairly steady through the end of the year and actually decrease in 2002.
The I-15 corridor markets of Poway, Escondido and Rancho Bernardo continue to report low single-digit vacancy rates. Most of the 5.3 million square feet added to these submarkets since 1996 has occurred in Poway, where business parks like Parkway Business Centre and Pomerado Business Park have been well received.
Fortunately, much of Poway's new inventory over the past two years has leased quickly and vacancy remains at a low 7.9 percent. Poway's central location and affordable cost of occupancy has been instrumental in its success.
The R & D; sector of San Diego County is relatively unchanged this year. Vacancy has held steady in the 9.4 percent to 10.2 percent range. Year-to-date net absorption is a negative 87,600 square feet, due primarily to the fact that many tenants that occupy this product type are start-ups looking for lower-cost space and have been negatively impacted by the slowdown in the availability of venture capital money.
New R & D; construction has come to a virtual standstill, a trend begun last year when just 176,000 square feet of new space was under way as of December 30. There now is 190,398 square feet of R & D; space being built, 151,000 square feet of which is located in Rancho Bernardo in the Bernardo Technology Center.
This very limited building activity means that the R & D; sector will not be impacted by a sudden influx of new space that must be absorbed. Therefore, we can expect the R & D; vacancy rate to remain in the 10-percent-range for the foreseeable future.
Philbin is managing director of transaction services with Burnham Real Estate Services.