Banking Carlsbad bank is acquired by RSF National
Monday, November 19, 2001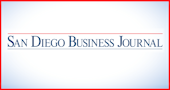 The bank holding company for Rancho Santa Fe National Bank signed a definitive purchase agreement to acquire Carlsbad-based Capital Bank of North County in a deal valued at more than $21 million and two times book value.
First Community Bancorp, headquartered in Rancho Santa Fe, announced it will issue 1.08 million shares of its Nasdaq-traded common stock in exchange for all the shares and options of WHEC, the holding company for Capital Bank of North County, whose majority owner iss William Herrick. At the time the deal was announced and based on First Community's stock price of $19.51, the total purchase price would be $21.1 million, representing 2.16 times Capital Bank's book value or shareholders' equity.
The acquisition, which requires shareholder and regulatory approval, is expected to close in the second quarter of next year. Following the merger, Capital Bank, with about $140 million in total assets and four branches, will become part of Rancho Santa Fe Bank, which has more than $200 million in assets and four branches.
Matt Wagner, president and CEO of First Community Bancorp, said the main reason for the Capital purchase is "it's a high-quality bank with a very good reputation, a strong management and employee team."
The acquisition is First Community's fourth this year. Earlier it acquired two Los Angeles-area banks, First Professional Bank with assets of about $265 million, and First Charter Bank, with about $135 million in assets.
It also has a pending purchase of Pacific Western National Bank, also based in Los Angeles, with $259 million in assets. The deal is expected to close by the first quarter of 2002.
Wagner said while there is certain to be some job consolidation, the majority of Capital Bank's 52 employees will be retained, including President and CEO Don Schempp, who has guided the bank to consistent profits in recent years.
For the nine months, Capital Bank earned $1.1 million, up 25 percent over the same period in 2000. Last year, net income was $1.3 million; and the year before it was $1 million. "We want to keep Don around, and we hope he stays until he retires," Wagner said. Asked whether Jim Boyce, CEO and president of Rancho Santa Fe National, would retain his title, Wagner was non-committal.
"We don't know who's going to hold what title right now. We're going to share the wealth," he said.
Wagner said he wasn't sure whether the newly merged Rancho Santa Fe would keep two offices in Carlsbad. As it stands today, the merged bank would have eight offices and a loan center.
Capital Bank of North County, whose focus is commercial business loans, came at a steeper price than a few other of First Community's purchases.
Wagner said the holding company paid much less for First Charter and First Professional. The latter bank was "very sick and under regulatory order," he noted.
Capital Bank, which had its beginnings in 1977 as a branch of Chartered National Bank of London, was launched in 1986 when a group of North County investors purchased the branch's assets and recapitalized it. The bank was recently rated as a super premier performing status by the Findley Reports, and given four stars by Bauer Reports. It has produced 39 consecutive quarters of profitability.
Frank Mercardante, president of Southwest Community Bank, a competing $100 million bank based in Encinitas, said since First Community Bancorp merged with Rancho Santa Fe National last year, it turned around a bank that was having "serious trials" laden with problem loans into a top rated lender.
"(First Community Bancorp Chairman John) Eggemeyer has been scooping up a number of banks in the last 13 months, and has done an absolutely excellent job in managing them," he said.
Mercardante said rather than feeling threatened by a much larger Rancho Santa Fe National, he and other bankers see only opportunities when a smaller community bank is acquired by a larger one.
Once all the pending mergers are completed, First Community's total assets would exceed $1.1 billion.