Local Firm Gets Business Loan From State for Recycling Technologies
Monday, November 12, 2001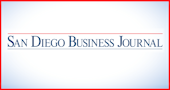 A Carlsbad-based company recently received a $1.4 million loan from the state to help it create environmentally friendly products.
Oceanside Glasstile Co. received the recycling business loan from the California Integrated Waste Management Board. The loan will help promote increased diversion of glass from the state's landfills, said Linda Moulton-Patterson, chairwoman of the California Integrated Waste Management Board.
The business loan is being made through the state Recycling Market Development Zone program to promote better recycling technologies and economic development. The low-interest loans also help create jobs and are administered by the waste board, which is part of the California Environmental Protection Agency and is the state's primary recycling agency, she said.
Sean Gildea, president of Oceanside Glasstile, said the loan will help him turn old glass bottles into hand-crafted iridescent tiles for residential and architectural use. The company, which recently moved to expanded quarters in Carlsbad, will be able to increase its efforts to recycle and keep glass waste out of local landfills, he said.
About 85 percent of the raw material needed to make the glass tiles comes from used glass bottles, Gildea said.
Oceanside's tiles are used in buildings, restaurants and cruise ships, as well as in a custom restoration project at Hearst Castle Park in San Simeon. Uses include flooring, countertops, and wall tiles in baths and kitchens, he said.