Defense Carrier Reagan to be home-ported here; Stennis leaving
Monday, November 5, 2001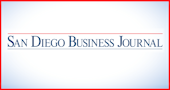 San Diego will be home port for the new aircraft carrier USS Ronald Reagan after all, federal officials announced last week.
Left unclear though, is whether this town will play host to three nuclear-powered aircraft carriers in the near future.
That is because the carrier USS John C. Stennis will shift its home port from San Diego to Bremerton, Wash., in 2004, the Navy also announced.
The news comes after a spring announcement that Bremerton could host the Reagan. San Diego civic leaders cried foul then, saying the carrier had been promised to San Diego.
A joint statement from Rep. Randy Cunningham, R-Escondido, and Rep. Duncan Hunter, R-El Cajon, last week said the Navy would recommend the Reagan go to San Diego. The congressmen, who had both fought for the carrier, received the news from Adm. Thomas Fargo, commander-in-chief of the U.S. Pacific Fleet.
The statement estimated the Reagan will bring 3,000 jobs and $226 million annually in salaries and other carrier-related expenditures to the area.
"This is great news for San Diego," said Hunter.
"I pulled every I.O.U. that I had to make sure we got this," Cunningham said.
The Reagan is scheduled to be commissioned in spring 2003, and should arrive at North Island Naval Air Station in spring 2004.
Meanwhile, other carriers will be coming and going from North Island.
The carriers that now make their home port in San Diego are:
- USS Nimitz, a nuclear-powered ship fresh from an overhaul, that will arrive in San Diego in a matter of days.
- USS Constellation, a conventionally powered ship that is scheduled to be decommissioned in 2003.
- USS Stennis, a nuclear powered ship that will go to Bremerton in 2004.
The Navy said the Stennis is due for one year of maintenance in dry dock, which would require a home port change to Bremerton.
The Navy is opting to leave the carrier in Bremerton after that to replace the USS Carl Vinson, which is scheduled to go to Newport News, Va., in early 2004 for a three-year refueling and overhaul.