Internet MP3.com tunes into offer by Vivendi
Monday, May 28, 2001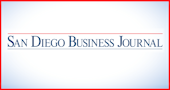 French Firm Will Pay $5 a Share for Struggling Internet Music Firm
MP3.com, Inc., the San Diego-based Internet music service, is going under the wing of Vivendi Universal SA.
The French company , which last year was one of MP3.com's fiercest courtroom rivals , will pay $372 million in cash and stock, the two companies announced last week. That amounts to $5 per share.
MP3.com puts music on the Internet and because of that has been the target of multiple copyright lawsuits.
Vivendi is the parent company of Universal Music Group, one of the five major music labels that sued MP3.com for copyright infringement last year , and the last of the five to reach a legal accord with its rival. The agreement, struck in November, called for MP3.com to pay Universal $53.4 million.
MP3.com will stay in San Diego and it appears that its employees will keep their jobs, said a MP3.com chairman and CEO Michael Robertson will become a special adviser to Jean-Marie Messier, chairman and CEO of Vivendi Universal, on matters of digital distribution, the two companies announced.
Robertson will stay in San Diego. Details of his compensation had not been made public as of last week.
While MP3.com has sophisticated music distribution technology, Vivendi Universal's interest was in the people that drive it, said spokesman Greg Wilfahrt.
Three investor relations employees will likely be out of their jobs since the second quarter will be MP3.com's last as an independent, publicly held company.
More Shopping
Vivendi is apparently doing some other shopping. Last week also brought news that the media giant was in talks to acquire Boston book publisher Houghton Mifflin.
Robertson had been in serious talks with Vivendi for two months, said Wilfahrt. The talks concluded May 20, a Sunday. Employees were called in to the office that evening and given the news , along with pizza.
The company issued a statement then saying holders of a majority of shares have agreed to the sale.
MP3.com stock has traded between $1.50 and $22.50 per share over the past year.
The stock closed at $3.01 May 18, the Friday before the Vivendi announcement. It closed in the $4.85 to $4.89 range last week.
"Given the performance of other small online music companies, the ($5 per share) price looks good," said Phil Leigh, an MP3.com analyst with Raymond James & Associates in St. Petersburg, Fla. "LaunchMedia, eMusic, and ArtistDirect all are trading for under $1 per share. Liquid Audio trades at about $2.50 per share," he said via e-mail.
MP3.com went public at $28 a share on July 21, 1999, and traded as high as $105 that day.
Investment Trend
The acquisition continues the trend of large music concerns investing in upstart companies that distribute music over the Internet. Bertelsmann AG, another of the big five labels, entered a strategic alliance with the file-sharing service Napster in October. Napster has also faced copyright infringement lawsuits.
MP3.com's statement said its service will continue to feature content from all record labels , and from the independent artists it has featured prominently.
The sale announcement said MP3.com may contribute its technical expertise to Duet, an online music subscription service Vivendi Universal is building with another label, Sony Music. The companies are looking to a summer launch.
The timing of the MP3.com sale "suggests to me that Universal wants to get the Duet joint venture up and running soon," said Leigh.
He reasoned that Vivendi Universal executives "see that the Napster users are leaving Napster and they are finding their way to alternate sources like Gnutella that could involve continued piracy. Without a legitimate alternative, the erstwhile Napster users might select continued piracy through other sources."
Overall, Leigh said, "MP3.com had great cards, but few chips."
Vivendi's acquisition will take up to three months to complete with formal shareholder votes and other details to wrap up, said MP3.com's Wilfahrt.