Biotech Leukemia drug shows signs of success in treating stomach cancer
Monday, May 21, 2001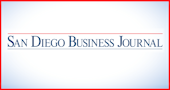 Biotech: FDA Approves Drug After Brief Review Of Clinical Test Results
A leukemia drug that recently made headlines with its fast-track approval has shown similar success in a rare form of gastrointestinal cancer, said a UCSD scientist.
Gleevec, made by Swiss pharmaceutical giant Novartis AG, showed a response rate in 90 percent of gastrointestinal stromal tumors (GIST), according to a scientist's testimony during the American Society of Clinical Oncology meeting in San Francisco last week.
Dr. Asad Bashey, assistant professor of medicine at UCSD's Division of Blood and Bone Marrow Transplantation, said it's very good news for GIST patients.
"This is a rare form of stomach cancer and has been untreatable until now," said Bashey, who has seen the positive effects of Gleevec as principal investigator of a leukemia study at UCSD's Medical Center.
The study's results, among others, led to the approval of Gleevec in chronic myelogenous leukemia patients May 10.
Now scientists hope for another success story in GIST patients.
Traditional chemotherapy reportedly works in fewer than 5 percent of GIST patients.
Gleevec was so effective that patients were reportedly able to return to work after eight to 12 weeks of treatment, said Dr. Charles Blanke of Oregon Health Sciences University at the oncology meeting. Blanke led one of two studies, according to published reports.
These dramatic results won't mean Gleevec will be effective in all cancers, Bashey said.
So far, the drug has shown to inhibit two or three disease-causing genes.
In GIST patients, Gleevec targets the effects of a gene called C-kit. The same gene is also believed to be involved with some types of brain and lung cancers, he said.
Novartis plans clinical trials to evaluate the effectiveness in those cancers.
Gleevec's approval after just a 2 & #733;-month review of clinical results is already a record for a cancer drug, experts said.
Typically, the Food and Drug Administration reviews data six months before it approves a drug. The Gleevec data, however, was so overwhelmingly positive that federal agents decided to release the drug early.
Bashey, who led a study of seven chronic myelogenous leukemia patients, applauds the FDA's decision.
He said five patients who received Gleevec had major remissions vs. the two patients receiving standard therapy.
Chronic myelogenous leukemia patients have an average life expectancy of seven to eight years, Bashey said.
Clinical trials of Gleevec began in 1998.
Keith Turner, executive director for the San Diego Hawaii Leukemia and Lymphoma Society, said that's not enough time to rule out complications.
"The only thing we don't know are the long-term ramifications," Turner said.
The group doesn't consider patients cured until they have been cancer-free for five years.
Bashey also agreed it's far too soon to talk about a cure.
Compared to standard therapy that may or may not benefit patients , injections of interferon, proteins designed to stop tumor growth, and chemotherapy , a daily dose of a pill that works is by far the superior treatment, he said.
About 4,400 patients are diagnosed with chronic myelogenous leukemia every year in the United States, according to the San Diego Leukemia Society chapter.
It's a scary disease, because it strikes all ages and both genders and the cause is still unknown, the Leukemia Society reported.
That's why breakthroughs like Gleevec are so exciting, said Dan Gold, associate professor at the Sidney Kimmel Cancer Center in San Diego.
Gold, who also attended last week's oncology meeting, said scientists are finally beginning to see the fruits of their research efforts.
One of the highlights of the conference was the recognition that Gleevec has helped ring in a "new era of cancer research," he said.
"We will see 1,000 new drugs to treat 1,000 cancers," Gold said, adding "(as) we are starting to learn that different cancers have different properties, we can zone in and design a more restricted repertoire of drugs. It gives us hope there will be other examples like this out there."
But success won't come overnight.
To develop a drug takes many years of research and development and can fail at any time. Once approved, price becomes a critical issue for many patients, too.
Novartis will charge $2,000 to $2,400 for a monthly supply of Gleevec, but offer chronic myelogenous leukemia patients who can't afford it at a discount.