Small Business and Retail Local entrepreneur is honored by President Bush
Monday, May 14, 2001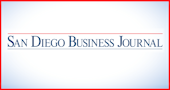 Small Firms Bear Brunt of Rising
Prices, Legislation
An Encinitas-based entrepreneur was honored last week by President George W. Bush as California Business Person of the Year.
Susan Lyon, president and managing director of Lyon & Associates Creative Services, joined the top business professionals from each state, plus the District of Columbia, Puerto Rico/Virgin Islands and Guam in a luncheon held May 8 in Washington, D.C.
The event was held in honor of National Small Business Week. Thornton Stanley, president of Huntsville, Ala.-based Stanley Construction Co., was named National Small Business Person of the Year, said Mike Stamler, spokesman for the Small Business Administration.
The three runners-up were Cindy M. McEntee, president and owner of Newport, Ore.-based restaurant chain Mo's Enterprises, Inc.; Frank Sarris, president of Canonsburg, Pa.-based Sarris Candies, Inc.; and Brindley B. Pieters, president of Altamonte Springs, Fla.-based engineering services company, Brindley Pieters & Associates, Inc., Stamler said.
Delores Braswell, spokeswoman for the San Diego-area SBA, said Susan Lyon was honored for the success of her small company, which Lyon and her husband, Mark, founded in 1991 in their spare bedroom.
By 1994, they had become a full-time business, incorporating innovative concepts in broadcast, print and interactive media, she said.
Currently, Lyon & Associates employs 15 people and had $3.6 million in revenue for 2000. Two years ago, the couple used a $750,000 SBA loan to open an additional corporation , Solana Beach-based Mighty Max Films , to focus on broadcast products, Braswell said.
Alberto G. Alverado, the SBA's acting regional administrator for Arizona, California, Hawaii, Nevada and the U.S. Trust Pacific Territories, lauded Lyon's accomplishments.
"Ms. Lyon exemplifies excellence in entrepreneurship that is to be respected and emulated. She's combined her business skills and management experience to help create a successful and growing firm," he said.
- - -
Small Biz Week? Yeah, Right:
Speaking of National Small Business Week, the California director of the Washington, D.C.-based advocacy group National Federation of Independent Business had something to add on the topic. This year, there is not much for California small business to celebrate.
"California small-business owners have been racing to stay one step ahead of double-digit spikes in their health insurance premiums, boosts in workers' compensation and unemployment insurance rates, a tax increase here, a license fee there," Martyn Hopper said.
Hopper, releasing a statement about the state of California businesses during National Small Business Week, noted that on top of the usual burdens, California's mom-and-pop firms also face energy bills that have tripled, and gas prices that steadily inch upwards, he said.
The state Legislature is making things worse. Although lawmakers may be honoring small business this month, they're still coming up with onerous legislation, Hopper said.
Hopper cited SB-410 as an example. The bill would ban arbitration, which he said has worked marvelously well in reducing lawsuits and negating the need for a new bureaucracy.
Then there's AB-181, which he called the "greatest of feel-good proposals." AB-181, if passed into law, would annually raise the minimum wage in perpetuity. But this doesn't mean much when the market already forces higher wages, Hopper said.
"What a rise in the minimum wage will do is push prices a little higher. This will mean nothing to the Volvo dealer or his customers. It will, however, force a senior on fixed income to cut back one day a week on her morning coffee from the fast-food restaurant," he said.
And that means lost income , and therefore job loss , among small businesses, Hopper said.
Want An SBA Loan? Hurry:
North County small business professionals can get some help signing up for a SBA loan at a seminar this week sponsored by the Small Business Development Center.
"Traditional and Non-Traditional Lending Sources , All you Ever Wanted to Know About SBA Loans And More" is the title of a free informational workshop scheduled for 10 a.m. May 15. The event will be held at the SBDC , North County office at 1823 Mission Ave., Oceanside.
A second event is scheduled for June 19, same bat-time, same bat-office. This seminar-style workshop, also free, will be limited to six people who would like to meet with an SBA representative and a banker to discuss business-specific questions.
Send Small Business and Retail Column items to Lee Zion at lzion@sdbj.com, or call (858) 277-6359, Ext. 112. The deadline for the May 28 issue is May 18.