High-Tech MusicMatch plans online music-on-demand service
Monday, May 14, 2001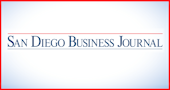 Leap Wireless Offering Cricket Users News Service
San Diego-based Musicmatch Inc. hopes to roll out a new service this summer , the song of your choice on demand, delivered over the Internet.
Executives at the Rancho Bernardo company hope to offer a choice of streaming and downloadable tunes.
Musicmatch, which stuck its toe in the musical waters a few years ago by making jukebox software for computers, announced plans last week to approach recording labels and publishers for the licenses they'll need for music on demand.
On top of writing code for jukeboxes, Musicmatch provides audiophiles with an Internet radio service.
A second new initiative Musicmatch announced last week is a subscription-based radio service.
The company already has radio programming. The new service, called Radio MX, will cost $4.95 per month (though the company plans to offer free, two-week trials).
The radio station's playlists will be tailored around individual user preferences (like a favorite era, or 25 favorite artists). Computer users will need the Musicmatch Jukebox software to hear it.
With its new services, Musicmatch publicists predicted a listener will be able to select a favorite track from a personalized radio station then easily add it to their permanent music library.
The Musicmatch jukebox software has been available from hardware makers and from Musicmatch's Web site, along with that of another high-profile Internet music provider: MP3.com, Inc.
San Diego-based MP3.com also has Internet radio on its menu of services. Company publicists announced last week that MP3.com offers "more than 157,302 customized stations," adding "if they don't pique your interest, just create your own station."
- - -
Radio Frequency, Radio Content:
San Diego-based Leap Wireless International, Inc. will soon see whether customers will pay $2.95 a month for another type of radio channel. Here, it's news and features delivered by an announcer over their wireless phones.
Leap announced it will roll out the service next month in the first market it served with its Cricket wireless service: Chattanooga, Tenn.
Phone users will get what Leap calls a "short, crisp" voice message , which may consist of local news, a personalized horoscope, a weather report, a high school football score, a movie review or even advertising , using the service. The message will change with every call.
The voice clip will fill the seconds before the call connects.
The Chattanooga Times Free Press will provide some of the local content, said a company spokeswoman.
A single keystroke will give customers an extended sound clip or a text message, she added.
Leap calls its initiative the Telephone Entertainment Network. Service in that first market will be called Slice of Chattanooga.
In other Leap news, the company announced last week it finished a public offering of 3 million shares of common stock, receiving approximately $97.9 million. Credit Suisse First Boston was the underwriter.
Columnar Components:
Path 1 Network Technologies Inc., a San Diego company working to transport broadcast-quality video using Internet protocol, has its second patent. "Methods and apparatus for providing quality of service guarantees in computer networks" was assigned Patent No. 6,215,797 on April 10. Company Chairman and Chief Technology Officer Ronald D. Fellman and UCSD professor Rene L. Cruz are listed as inventors. Fish & Richardson P.C. represented the company. Another patent is in the works, said a company spokeswoman. Aiming to protect wireless device users from malicious code, Mountain View-based VeriSign, Inc. is authenticating applications written using Qualcomm Inc.'s Binary Runtime Environment for Wireless (BREW), the two companies announced. Hector Garcia-Molina, a Stanford University computer science and electrical engineering professor , and head of its computer science department , has joined the advisory board of Kintera, Inc., the San Diego company providing Internet-based services to nonprofit organizations. In its bid to lure the corporate headquarters of Gateway Inc., the city of Poway put grazing cows in the city seal. The city emblem shows Twin Peaks, the Poway oak and a grassy field. The modified design not only turns the field into a pasture, but includes a Holstein running on two legs, saying "Home, sweet home" in a cartoon bubble. Yes, the changes were only for the Gateway folks. No, they aren't permanent. Yet the idea has possibilities. If San Diego can sell naming rights to the ballpark neighborhood, what's to stop an enterprising city from selling product placement in its emblem?
Send high-tech news to Graves via e-mail at bgraves@sdbj.com.