Editorial What's in a name? Perhaps a city district
Monday, May 7, 2001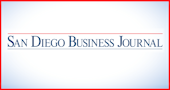 Many are already scoffing at the notion of selling off the naming rights to the 26-block ballpark district in Downtown.
While we're not ready to jump on "Sempra Energy's East Village" or "The Ballpark District Presented by Sycuan," we also don't want to simply dismiss such a plan just because it's never been done before. The billion-dollar Downtown project sits idle, mired in lawsuits that prevent the new Padres ballpark from opening until mid-2003 at the earliest. Leadership on this issue is crucial.
Freshman City Councilman Brian Maienschein has withstood some blistering criticism for his April 30 proposal, which would be a separate naming-rights issue from the ballpark itself. The Padres also have remained tight-lipped about the plan, merely offering a short statement saying they will follow the city's lead on the matter.
Of course, political wags have had a field day as well, chiding the plan's potential for absurd naming rights for San Diego communities from Ocean Beach to Rancho Bernardo merely for the sake of a few bucks.
We are inclined to respond like the Padres: Let's see if such a concept even holds water before jumping in. But while caution here is prudent, we must admit we admire Maienschein's willingness to think outside the box.
If such a plan were deemed possible by the city attorney's office and ultimately approved, any money raised would go toward lowering the city's $225 million share of stadium construction costs. Do that and it virtually eliminates any objections opponents have raised over the city's funding of the project approved by voters in 1998.
Considering the ballpark alone is expected to generate some $100 million in naming rights fees, sponsoring what is expected to be a vibrant extension of the Gaslamp District could go a long way in paying down the city's ballpark debt.
When San Diego's four new council members and the mayor took office late last year, we urged them to offer innovative ideas to solve the city's problems. Since then a special election has seated a new 8th District representative, and a new council member soon will be elected in the 6th District. Maienschein has posted his plan and it's incumbent upon his colleagues to add their thoughts.
City leaders are taking a cautious approach to Maienschein's idea, as well they should. While his proposal could be shot down, it could lead to other ways to reduce public funding in the ballpark district.
We do not advocate selling off our city's most precious treasures , we can't fathom the Cabrillo Lighthouse brought to you by GE , but there could be merit to selling naming rights in East Village.
The city will likely get plenty of input on this issue. Let's hope they listen to the pro's as well as the cons.