Biotech Ligand's oncology products to be launched in Europe
Monday, March 12, 2001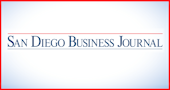 Psoriasis Patients Show Positive Results After
Experimental Treatments
Ligand Pharmaceuticals Inc.'s chief executive hopes a new marketing agreement with an Ireland-based pharmaceutical firm will boost sales and profits this year.
The San Diego-based biotechnology firm announced Feb. 28 it signed an exclusive distribution agreement with Elan Corp., plc's affiliate Elan Pharma International Ltd., to sell its oncology products.
"Elan's growing oncology franchise in Europe should provide a solid foundation from which to launch Panretin gel (approved for marketing in the European Union) and Targretin capsules (final European Union marketing approval expected in the first half of 2001) this year and Targretin gel and Ontak over the next several years," said David Robinson, Ligand's president, chairman and CEO.
Under the agreement, Elan will have exclusive marketing rights in Germany, France, the United Kingdom and other northern European countries, Ligand reported.
Ligand said Elan agreed to make an undisclosed upfront payment.
Ligand expects to receive a total of $10 million from Elan after fulfilling specified milestones, including product approval by European regulators.
- - -
Idec Results Encouraging: Idec Pharmaceuticals Corp. said a Phase I/II study of 35 patients suffering from moderate to severe psoriasis showed encouraging results.
The findings were presented at the 59th annual meeting of the American Academy of Dermatology in Washington, D.C., Idec said.
Out of 35 patients who received four infusions of the experimental drug at various dosage levels, 14 patients showed a 50 percent reduction in the severity of the skin lesions at some point in the study.
Slightly more than half of treated patients showed "good" improvement or better according to the "Physician's Global Psoriasis Assessment," Idec reported.
Patients' skin lesions continued to heal beyond the treatment period, Idec reported March 5.
Patients suffered mild side-effects, such as colds, transient chills and mild fatigue, Idec said.
Based on the outcome of the study, Idec initiated two separate Phase II clinical trials with different drug dosages and schedules.
Heart Collaboration: A San Diego-based biotech firm and UCSD scientists will work together on isolating cells thought to play a pivotal role in the onset of sudden cardiac death.
Aviva Biosciences Corp. in Sorrento Valley developed a biochip that shows promise in separating, manipulating and screening of specialized differentiated cell types.
The biotech firm and UCSD's Institute of Molecular Medicine will collaborate on isolating these cells in the hopes of finding new drug targets.
Current isolation techniques failed to offer many clues with regards to new drug targets, Aviva reported March 2.
- - -
Discovery Buys Colorado Firm: San Diego-based Discovery Partners Intl. said Feb. 28 it bought Xenometrix Inc. for about $2 million in cash.
Discovery Partners, which provides biotech services to pharmaceutical firms, said Xenometrix's technology will help scientists determine which drug candidates have the most desirable characteristics.
"Properties such as pharmacological activity, potency, selectivity and side-effects determine economic and commercial feasibility, and this technology complements our services throughout the drug discovery process," said Riccardo Pigliucci, CEO of Discovery Partners.
Please send biotech news to mwebb@ sdbj.com.