Trade New WTC chairman adds a San Diego touch
Monday, March 5, 2001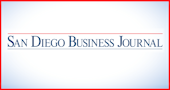 Trade: Richard Ledford's Debut Mission a
Return to Chile
Richard Ledford was a bit surprised when he discovered he was named the new chairman of the San Diego World Trade Center.
"I walked out of the room and when I came back they told me I was their new chairman," said Ledford, a local business consultant specializing in international trade.
It didn't take Ledford long to agree to seize the moment and open a new career door. It's what he's seems to have done quite well over the years.
Before hanging out his shingle representing everything from sports teams to Australian premiers, Ledford was a director of community relations for the San Diego Chargers, a policy executive for the Regional San Diego Chamber of Commerce, a community relations executive for the San Diego Convention & Visitors Bureau and a chief of staff to several public elected officials, including former Mayor Susan Golding.
While he won't say a disparaging word about Golding, he confirmed her workaholic nature, and expectation that her staffers put in the same hours.
"It was a 7/24 job," he said. "There were some weeks where I barely got to see my family, I was always coming home so late."
But if you're in municipal government, you could hardly ask for a more exciting and challenging job than chief of staff for a big-city mayor, said Ledford, the first of seven chiefs of staff who served under Golding.
His latest position heading up the WTC board brings Ledford full circle, in a way.
While Golding's top staffer, he worked on obtaining the charter for a World Trade Center for San Diego in 1994, with sponsorship coming from the city and San Diego Unified Port District. The nonprofit, one of 180 centers in 100 countries, provides information and communications services to member companies wishing to expand their global markets. The local center has about 350 members, mostly small businesses.
Among Ledford's new duties will be accompanying a WTC organized trade mission to Santiago, Chile, from May 12 to 19.
"When we visited Santiago two years ago (as part of three-nation mission that included Argentina and Brazil), we found there was a lot of connections between that city and San Diego , particularly in terms of technology and fresh produce that each of our regions export," Ledford said.
This time, the trip could be even more important. The United States and Chile are negotiating a bilateral agreement that may lead to its becoming the fourth country to join the North American Free Trade Agreement alliance along with the Unite States, Mexico and Canada.
Ledford said he joined the WTC soon after he launched his consulting company in 1999 because he saw the obvious benefits. Over the past two years, he's worked with the premier of New South Wales, the state of Australia that includes Sydney, and with a public-private partnership aimed at fostering business connections between that state and San Diego.
Among his most gratifying consulting gigs was serving as interim executive director for the San Diego Symphony.
"I was only supposed to be there for a few months while they searched for a new director, but I ended up staying about 12 months," he said. "Thanks to the support the organization received in the community, it was in the black when I left."
Besides his extensive government experience, Ledford brings a solid business background to the WTC board, says Kathy Ward, WTC's president.
"Richard brings an excellent business perspective," she said. "He has a vision for the organization about where he wants it to go, and he runs our board meetings just like a business, very focused and very results-oriented."
Ledford was born in Los Angeles but grew up in San Diego and obtained a bachelor's degree from the University of San Diego, and his master's degree in public administration from SDSU.