Biotech Diversa system speeds process of screening genes
Monday, June 18, 2001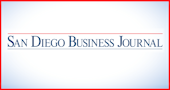 New Research Kit Also Ups the Pace
Of Experimentation
San Diego-based biotechnology firm Diversa Corp., which scours extreme terrains for biological micro-organisms, said it developed a high-throughput system to rapidly screen genes.
The "GigaMatrix platform" uses a 100,000-well screening plate, which allows for more testing vs. the standard 96-, 384- and 1,536-well screening plates. Each well is used to conduct a particular chemical reaction.
Jay Short, president, CEO and chief technology officer, said the new system will boost Diversa's enzyme discovery program.
"It's going to allow us to explore a greater range of chemical structures, proteins, antibodies and other therapeutics the other platforms were not amenable to all those types of molecules," Short said.
Big companies, such as Dow Chemical Co. in Midland, Mich.; SmithKline Beecham, now Glaxo-SmithKline plc. in London; and Syngenta Crop Protection Inc. in Greensboro, N.C., are willing to pay for access to gene libraries and enzymes.
Short predicts the faster system will have a positive effect on sales and the bottom line, but declined to offer projections.
For the first quarter ended March 31, Diversa reported $8.2 million in revenues.
That compares to $4.4 million in revenues during the same period a year ago.
Diversa attributes the nearly twofold increase in revenues to its partnerships with Syngenta Seeds AG, Innovase LLC, and the Dow Chemical Co.
- - -
Fast Science:
Carlsbad-based biotechnology service provider Invitrogen Corp. also developed a new research kit the firm claims will speed up and facilitate scientific experimentation.
Invitrogen's new technology, sold under the name "TOPO Tools," will aid scientists everywhere to accelerate gene and protein research. This in turn will raise the potential of finding new drug candidates, said Paul Goodson, Invitrogen's vice president of investor relations on June 5.
"We expect this will be important in research studies to develop new drugs in the fight against cancer and in other areas of genomics and proteomics," Goodson said.
Using conventional methods, it takes three to four days to clone and isolate a particular gene, Invitrogen said.
The new kit eliminates any bacterial steps. The result is less than one day needed to purify a gene. The gene is then inserted into human or mammalian cells so scientists can study which protein it produces.
Goodson said the firm's 325-member sales force began pitching the new kit to scientists worldwide in May.
He couldn't say how many kits have been sold, but said it's likely the kit could translate into sales in the $25 million range.
Lupus Trial Continues:
San Diego-based biotech firm La Jolla Pharmaceutical Co. said it enrolled its first patient to test its experimental lupus drug in a late-stage European trial.
La Jolla Pharmaceutical said June 11 more than 100 patients have agreed to test the firm's lead drug candidate LJP 394 at 60 clinical sites in the United States, Canada, Mexico and Europe.
The company wants to recruit 200 more patients to evaluate if LJP 394 can prevent or delay renal flares associated with lupus and reduce chemotherapy, thus improving the patient's quality of life.
Lupus is a chronic life-threatening autoimmune disease in which antibodies attack the body's healthy organs.
LJP 394 is designed to reduce the production of disease-causing antibodies responsible for lupus kidney disease. Current non-specific treatments cause severe side effects, including diabetes, hypertension and sterility, and suppress the overall immune system, leaving the patient vulnerable to serious infections, La Jolla Pharmaceutical reported.
About 1 million people in the United States and Europe have been diagnosed with lupus, the company said.
For information, call (888) 30-LUPUS for information on the trial.
Please send biotech news to mwebb @sdbj.com