Editorial Increasing the benefits of free trade
Monday, June 11, 2001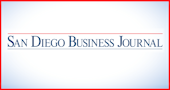 Mexican President Vicente Fox Quesada was absolutely correct when he recently pointed out the next step for free trade among the Americas is to make the rewards of NAFTA's success available to small- and medium-sized businesses on both sides of the border.
Fox made his remarks during a speech broadcast live via satellite to the San Diego Business Journal's "Inside the 21st Century" luncheon held May 30. The president pointed out the free trade agreement propelled trade between the U.S. and Mexico to nearly $263 billion, and cemented Mexico's position as the United States' second-largest trading partner.
Now, Mexico's president wants to see the economic benefits of NAFTA filter down from the large corporations which have had the financial wherewithal to stake their claims in the NAFTA gold rush to smaller companies. That, Fox says, can only be done if the three NAFTA partners work even closer together to promote regional competitiveness.
We agree with President Fox that free trade among the Americas holds great potential for companies of all sizes. However, most small firms have not taken advantage of the opportunities presented by NAFTA. Now, with even more opportunities to be made available to smaller companies by the hemispheric Free Trade Area of the Americas, hammered out during the Quebec City summit in April, it's important that small and mid-size firms prepare themselves for this new challenge.
In a recent speech, Richard Feinberg, director of UCSD's Asia Pacific Economic Cooperation Study Center, predicted the FTAA will provide small and mid-size companies new opportunities to take part in trade with the growing economies south of the border , not just with Mexico, but all of Latin America.
Just as NAFTA knocked down trade barriers between Canada, Mexico and the U.S., FTAA promises to reduce or eliminate trade tariffs that in some South and Central American countries can amount to 20 to 25 percent of the imports' value. Abolishing such barriers will put smaller firms on a much more even playing field with larger American companies in finding new trading partners.
FTAA is expected to be implemented by 2005. We expect it will help accomplish President Fox's vision and benefit companies of all sizes throughout the Americas, but American businesses must be prepared to take advantage of the new opportunities.