Developer Stands Behind the Big Flag
Monday, June 11, 2001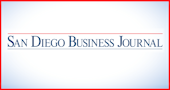 What better way to celebrate the Fourth of July than to roll out the American flag , a 100-by-50-yard American flag to be exact.
The "Big Flag" is planning to make its summer debut during the San Diego Padres' pre-game show. Padres fans will watch as 238 military personnel unravel the 850-pound flag that will cover the entire Qualcomm Stadium baseball field.
"I get goosebumps every time I see it," said Bruce Keeton, president of local construction firm Keeton Construction and member of the Culligan Holiday Bowl committee.
"It's good to see 50,000 people come together for one common feeling , patriotism about the flag and a good feeling about the event," he said.
Keeton and the Holiday Bowl committee jointly purchased the flag six years ago for $35,000.
He was approached by the Holiday Bowl committee 13 years ago to be a sponsor for a "Big Flag" that the committee was renting at the time.
After the first year, he said he became hooked and continued to sign up for the planning committee every year after that.
A couple years later, Keeton decided it was time for the Holiday Bowl to have a "Big Flag" of its own.
"The flag has been a real contributing factor to the success of the Holiday Bowl," he said.
Keeton and a team of five local businessmen volunteer their time to help maintain and market the flag out to parties across the United States.
All proceeds go to the Holiday Bowl committee.
The volunteer committee is comprised of Bruce Binkowski, associate executive director of the Holiday Bowl; Gary Dobbs, technical management consultant; John Romero, director of ticket sales for the Holiday Bowl; Master Sgt. Kevin Smith of Camp Pendleton; and John Korogy, a master mechanic.
"It's been real exciting for me to be involved with this over the years and it's something to give back to the community it's been a lot of fun," he said.
One of the largest American flags in the nation, the "Big Flag" makes five to 10 appearances a year and has been used for the Super Bowl and the World Series.