Publisher's Notebook Offering a salute to the military community
Monday, June 4, 2001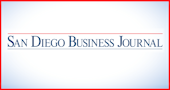 May was Armed Forces month and it culminated around the nation with a blitz of television programs on World War II and, in particular, the surprise attack on Pearl Harbor.
Hollywood even chimed in with the world premiere of its newest movie on Pearl Harbor over the weekend on the San Diego-based aircraft carrier the USS John Stennis.
As a retired Marine Corps officer, I was in movie replay heaven all weekend with back-to-back John Wayne movies all day long on Sunday and Monday. There were also countless specials narrated by newscasters and retired generals. But the most important thing I did was to fly my American flag at my house in honor of the many thousands of men and women who have died since 1775 defending our nation.
Here locally, Armed Forces Month meant so much because we are the largest military base in the free world. There are approximately 110,000 active-duty military personnel stationed here, along with 56 combat ships of the fleet, two aircraft carriers and six nuclear submarines. When you factor in the defense contracting jobs, 275,000 jobs are tied to the military, nearly one-fourth of all the jobs in San Diego.
The total economic impact of defense and aerospace totals more than $15 billion, making it the second-largest industry group in the region.
We often take for granted the special part the military plays in our neighborhoods. In addition to the active-duty contingent here, we are also home for another 45,000 to 50,000 retired military personnel.
Both the active and retired personnel play key roles in civic events as well as community involvement with Scouting, Little League and hundreds of other charities. The spouses of those personnel work in nearly every industry in the region and help produce the state-of-the-art products and discoveries emanating from our diverse industries.
We are fortunate to have all of our military personnel and their dependents living and working alongside us each and every day because they are a big part of the reason we are the greatest and most powerful country in the world.
To the balance sheet.
Credit:
To the Pan Asian Communities for not letting an economy in neutral stifle their annual fund-raising event. On May 9 and 10, former port commissioner Susan Lew chaired the event which raised more than $300,000 for the Union of Pan Asian Communities. The event, Celebrate Unity, began in l996 and with this year's contribution a total of $1 million has been raised to help the community. UPAC is one of Southern California's leading bilingual and bicultural social services agencies. Programs address youth delinquency, domestic violence, mental health, substance abuse, employment issues and small business development to name but a few. Congratulations to Susan and her colleagues at UPAC for stepping up with the dollars to help those in need.
Credit:
To all of you in San Diego in the technology business because you helped the city of San Diego become selected in the top 10 cities in the nation best suited for the new knowledge-based economy. The Case Western Reserve University of Cleveland study by their Progressive Policy Institute ranked San Diego ranked fifth overall. Interestingly, the top five cities we normally compete with in most polls were missing: New York, Los Angeles, Chicago, Houston and Phoenix. Other cities on the list include San Francisco, Austin, Texas, Seattle, Raleigh-Durham, N.C., Washington, D.C., Denver, Boston, Salt Lake City and Minneapolis.
The major factor of selection relied on what areas had made the best transition from a manufacturing economy to one reliant on ideas and information. We salute our technology sector for a job well done.