People On The Move
Monday, June 4, 2001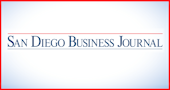 Construction and Design
William Sharon has been promoted to director of retail design for Smith Consulting Architects. Mary McLellan has been appointed design phase manager for Highland Partnership, Inc. Sundt Construction, Inc. has hired Dave Rudderow as a project manager/estimator. The San Diego Chapter of the Associated General Contractors (AGC) has hired Brad Barnum as director, government relations. Roel Construction Co. has hired Shea Laserna as options manager and Heather Costello as marketing assistant.
Government and Nonprofit
The San Diego Association of Governments has named Gary L. Gallegos as executive director of it board of directors. Harold W. Ball has been elected to the board of directors of the Metropolitan Water District, Southern California.
High-Tech and Manufacturing
Avexus Inc. has appointed Michael Grad as vice president, worldwide sales. John Riener has joined IXATA as president and CEO. Anna Technology has appointed John Krill as vice president, sales.
Hotels, Resorts and Restaurants
Jack in the Box Inc. has promoted Linda A. Lang to senior vice president and David M. Theno, Ph.D., to senior vice president, quality and logistics. Steve Pelzer has been appointed executive vice president, marketing and sales for Evans Hotels. The Lodge at Torrey Pines has named Carol Sullivan as director of sales and Dan Fullen as general manager.
Insurance
Richard Kenner has joined The Mony Group as a financial professional.
Law
Haight Brown & Bonesteel has named Michael Perez as a partner.
Media and Marketing
Austin Veum Robbins Parshalle has appointed Lori A. Brookes, Aaron N. Huisman and Marcio M. Porto as project coordinators; and Harry Chu as designer.
Miscellaneous
Leslie Rodes Monteath has been named vice president, finance of the Del Mar-Leucadia Branch of the American Association of University Women.
Real Estate
Roberta Alford has joined Voit Commercial Brokerage as hotel specialist.