Sports Bob Vizas is all business as Padres' CEO
Monday, July 30, 2001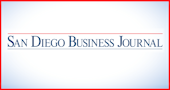 Ballclub's Counsel Replacing Lucchino At End of Season
When Bob Vizas became the San Diego Padres' executive vice president of legal affairs two years ago, he wasn't expecting the legal battle the club was soon to endure.
He also didn't expect to remain in the same job with the team forever, either.
Although he was unsure when it would happen, Vizas, 54, knew the plan was for him to elevate into a new position within the baseball team.
Vizas, who still has the same title, is a longtime friend of Padres president and CEO Larry Lucchino. He said when he was hired two years ago, there already was talk of executive changes.
"(Larry said), 'I think I'm a point in my life where I want to sit on a beach in France,'" Vizas said.
"We had the discussion at the beginning, but were not explicit that he (Lucchino) was going to step down at any given date."
Lucchino and Padres majority owner John Moores tried to bring Vizas on board when he bought the club seven years ago, but the timing wasn't right for Vizas.
His wife had recently died after a long illness and he didn't want to uproot his children, two of whom were still in high school. When his youngest daughter finished high school in 1999, Lucchino called again.
With his three daughters all grown up, Vizas, a Washington, D.C., native, packed his bags and left San Francisco for San Diego.
His 26-year-old daughter, Jill, is a law student at Northwestern University in Chicago, while 24-year-old Katie works in the Padres' community affairs department and 20-year-old Sally is a sophomore at the University of Colorado in Boulder.
At a press conference July 20, Lucchino announced he would step down at the end of this season and Vizas, a 1971 graduate of Yale Law School, will take over as president and CEO.
Outside The Lines
His resume doesn't stack up to Lucchino's in terms of baseball operations. Lucchino has been in the business for 22 years with both the Padres and Baltimore Orioles; Vizas has just two years' experience.
Lucchino was instrumental in building Baltimore's Oriole Park at Camden Yards, which opened in 1992. Vizas' ballpark experience started here, and has primarily kept him busy fighting court battles.
Nonetheless, the career lawyer and businessman is ready to take command.
"I've known Larry for years, and I have a tremendous amount of respect for what he's done," Vizas said during an interview at the Padres' corporate office in Mission Valley. "On the other hand, we're all individuals and there are certain things I will do on a day-to-day basis differently than he will."
It's A Business
Vizas said what some people fail to understand is the ballclub operates primarily the same as any other business. His background encompasses extensive legal and corporate experience, most recently as general counsel for TeraStor, a storage technology company in San Francisco; vice president and general counsel of Raychem, a billion-dollar technology firm in Palo Alto; and as partner with the San Francisco law firm of Heller, Ehrman.
"People forget we have the same problems as any business," he said. "It's just that our product happens to be a baseball team."
As a trial lawyer in San Francisco in the late 1980s, he got an up-close look at the realities of running a baseball team while representing the Haas family, which owned the Oakland A's from 1980 to 1995.
During the press conference, Lucchino said the timing is right for him to take a back seat in the daily operations of the club.
"The last major legal obstacles to building what I believe will be the best ballpark in the world have been overcome, and my daily involvement is no longer critical," Lucchino said.
Lucchino will continue to lead the ballpark construction and design efforts, and he will consult the team on Major League Baseball issues. But two decades of ongoing service is enough, he said.
"Twenty-two years of day-to-day service leads one to think that a change in roles, a break in routine, may be a good thing," he said. "While I've been CEO (of the Padres) for seven years, I feel like I've worked about 14."
Work To Be Done
Vizas has been the front man in the team's negotiations with the city on the contractual and construction issues since February. The $452 million ballpark has been on hold since October.
The negotiating team also includes Jack McGrory, who heads the club's real estate development; John Kratzer, president of JMI Realty; and Charles Black, a business lawyer with Gray Cary Ware & Freidenrich.
McGrory, who joined the ballclub around the same time as Vizas, said Vizas should have no problem transitioning into his new role.
"Bob has been the head negotiator with the city and the team for some time," McGrory said. "Ultimately when the season is over, he will be responsible for the ballclub and become an active part of the management team for the ballpark project."
McGrory said although Vizas isn't as baseball-savvy as Lucchino, he is the right person for the job.
"He has legal and management experience," McGrory said. "Those skills are transferable within any industry. In terms of baseball itself, Kevin Towers and Bruce Bochy are one of the best coaching teams in baseball."
The city's ballpark bond package is expected to go before the San Diego City Council in September. If construction resumes this fall, as expected, the ballpark should open in 2004.
Since Vizas joined the team, the new ballpark and the lawsuits challenging it have kept him busy.
"We obviously ended up having more legal problems than we ever imagined," he said. "I wasn't expecting 14 lawsuits.
"The last two or three years have been a pressure-cooker. We've had nothing but issues trying to get this ballpark done."
Once that hurdle is cleared, the new CEO can concentrate more on the business of running a baseball team.
"To manage a ballclub, you have to be fiscally responsible," Vizas said. "John Moores has incurred incredible losses, and we have to avoid that.
"A baseball team will never be run like General Motors, but we have to increase revenues and spend money prudently."