High-Tech More than half of Tech Fast-50 are from San Diego
Monday, July 30, 2001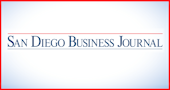 Study: Only 3 Percent Of Drivers Use Cell
Phones While Driving
Deloitte & Touche LLP recently released its list of local finalists in its 2001 Technology Fast 50 survey. This is the fifth year the big consulting firm has singled out local companies for recognition.
Deloitte was looking specifically at revenue growth from 1996 to 2000. But it isn't saying who grew the fastest , at least not yet. That will wait until the awards ceremony Sept. 10.
The Fast 50 list mixes San Diego County firms with those from Orange County. Just over half come from south of Camp Pendleton.
The list also makes no distinction between biotech and information technology firms. It mixes both. Which is why you are finding many biotech names in a column usually devoted to high-tech electronics.
Among the fast-growing companies from San Diego County:
4-D Neuroimaging; Acadia Pharmaceuticals, Inc.; Alitum, Inc.; Aurora Biosciences Corp.; CardioDynamics International Corp.
ComGlobal Systems, Inc.; Cymer Inc.; Discovery Partners International; Diversa Corp.; HNC Software Inc.
Idec Pharmaceuticals Corp.; ImageWare Systems, Inc.; Invitrogen Corp.; JNI Corp.; MassHysteria, Inc.
Nanogen, Inc.; Novatel Wireless Inc., nStor Technologies, Inc.; Peregrine Systems Inc.; Sequenom, Inc.
SmartDraw.com; SVI Holdings, Inc.; The Titan Corp.; Vista Information Solutions, Inc.; Websense, Inc. and Wireless Facilities Inc.
- - -
Rolling Phone Booths:
At any given time, 3 percent of the drivers on the road with you are using a hand-held cell phone.
The National Highway Traffic Safety Administration released that estimate last week. It came in a research note summarizing a recent survey that sent federal observers to 640 streetcorners across the United States.
Observers found that people driving vans or sport utility vehicles were more likely to use cell phones than people in passenger cars or pickups.
They also reported you were more likely to see drivers using cell phones in the Midwest or the South. And you would probably see the phenomenon more in suburban and rural areas as opposed to urban areas.
The federal car-count was conducted last fall.
The Cellular Telecommunications & Internet Association responded to the study with a call against legislation to ban cell phone use behind the wheel. New York recently enacted such a law.
"If 3 percent of drivers are using phones, that clearly doesn't reach the threshold for legislation," said association spokeswoman Dee Yankoskie.
What drivers need is education on the variety of distractions they face, she said.
The industry association is also quick to point out that having a wireless phone at hand increases a person's safety , particularly a woman's safety.
The federal study, which provides detailed demographic and geographic information on wireless phone use at the wheel, is available on the Web at (www.nhtsa. dot.gov/people/ncsa). Look for "Passenger Vehicle Driver Cell Phone Use , Fall 2000 Survey."
Send high-tech news to Graves via e-mail at bgraves@sdbj.com. (Biotech news should be directed to mwebb@sdbj.com.)