Media San Diego firms score at Apex awards for marketing work
Monday, July 16, 2001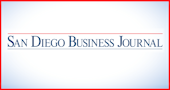 Local Firm Signs Ohio Communications
Developer for Ad, PR
San Diego was well-represented in the Apex Awards, which looks at marketing communications work nationwide.
Under the "brochures, manuals and reports category," technical documentation firm Manual Labour won a grand award for the company's "prospect kit."
Awards of excellence went to Callaway Golf Co. for the category of "most improved newsletter," Crider Associates in Encinitas for "custom-published magazines and journals" and "magazine and journal writing," and the Padre Dam Municipal Water District in Santee for "printed magapapers and newspapers."
Awards of excellence also went to Copley News Service and the San Diego Yacht Club for "one to two person-produced magazines and journals."
The San Diego Convention Center Corp. won for "annual reports," and local marketing firm matthews/mark won for "annual report, four color."
Manual Labour also won an award of excellence under the "education, information brochures, manuals and reports" category, while the Convention Center Corp. won for "marketing and sales brochures, manuals and reports. Matthews/mark also won under "special purpose brochures, manuals and reports."
Marketing firm Bailey/Gardiner Inc. won under "Web site content and marketing plans" and another award for "displays, signage and packaging."
- - -
Signings:
MJE Marketing Services, LLC recently signed MCSi West, Inc. in Dayton, Ohio. Locally based MJE will handle marketing communications for MCSi, which sells communications equipment, through separate advertising and public relations agreements. The ad agreement runs through the first quarter of next year and the PR contract runs through the end of this year. The companies signed the contracts in May. Earlier this month, Schindler Marketing Group officially signed the Pala Mesa Resort as a client. Schindler had been working with the property since May. After a two-month review, National University recently chose San Francisco-based Amazon Advertising to handle creative work for its $3 million account. Initiative Media will do the media planning and buying. The new campaign, focused on enrollment, will be launched next month, according to a National spokesman. Local firm Big Bang Idea Engineering, which had the account for the past two years, did not take part in the review. Big Bang partner Mark Drozda said that when National said they wanted to conduct a review, his firm decided not to participate. "They wanted to move in some different directions, and we did, too," Drozda said. In a couple weeks, Big Bang will launch a new campaign for SDSU's College of Extended Studies.
"Want Some Awards With That?": Jack in the Box, Inc.'s branding efforts continue to bring in industry recognition. On July 26 in New York City, the Kearny Mesa-based company's quirky annual report for 2000 will receive two awards from the International ARC Awards competition, which focuses on annual report work.
The fast food chain's two awards are for "best non-traditional annual report" and "best text" in its length category.
Its 2000 report was designed to resemble a confidential file on the company assembled by a would-be competitor. The report was created by local firms Via Design and Crowded Room Public Relations.
Jack's 2000 report had already won a special judges award at this year's Addys Awards, which are sponsored by the American Advertising Federation, plus other awards. Jack's advertising campaign, done by Santa Monica firm Kowloon Wholesale Seafood Co., also continues to generate awards. One of its commercials won a "gold lion" earlier this month at the International Advertising Festival in Cannes, France.
- - -
Sound Bites:
Cox Communications' Bill Geppert was recently honored by the National Cable and Telecommunications Association with the 2001 Vanguard Award, a high honor in the industry. Geppert is the vice president and general manager of Cox's San Diego holdings. Ted Hansen, CEO and creative director of local design firm Hansen Associates, recently talked to trade journal Graphic Design: usa about current influences on the use of color in design and marketing work. Color use is costly, but the recent downturn of the economy isn't likely to affect companies' use of color. "They won't flinch like they might have in the past," Hansen said. "Yes, fewer dollars will be spent, but the palette won't lose or change a hue."
The deadline for the next Media & Marketing column is July 19. Rodrigues can be reached at (858) 277-6359, Ext. 107, or via e-mail at trodrigues@sdbj.com.