High-Tech Qualcomm stock up on news of Nokia agreement
Monday, July 9, 2001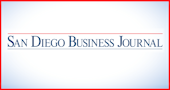 ViaSat Gains $17M in Additional Internet Work
Qualcomm Inc. stock rocketed more than 8 percent in a single day last week, with some observers attributing its rise to a new deal with the Finnish wireless telecom equipment maker Nokia.
Qualcomm and Nokia announced early July 3 they had modified their 1992 Code Division Multiple Access (CDMA) cross-license agreement.
"Nokia Now A Friend, Not A Foe," read a research bulletin issued July 3 by Merrill Lynch analysts Michael E. Ching and William Choi, who announced the brokerage's intermediate term opinion on Qualcomm had switched from "neutral" to "accumulate."
Qualcomm investors had been waiting for this moment, "when market leader Nokia would bow to the CDMA master and agree to pay Qualcomm royalties on its handsets," wrote Tish Williams of TheStreet.com.
Investors had a couple of fears, she wrote. One was that Nokia would try to design its third-generation wireless telecom equipment in a way that deliberately avoided Qualcomm's patents. Another was that Nokia would try to get a discount on the Qualcomm patents. Neither happened.
A joint statement from the companies says the agreement gives Nokia a license to make and sell CDMA infrastructure equipment. It gives Qualcomm rights to make and sell chips using Nokia's patents.
Qualcomm stock, which closed at $57.87 per share on the evening prior to the announcement, closed at $63.87 on the day of the announcement.
- - -
Internet Aloft:
Carlsbad-based ViaSat, Inc. has secured $17 million worth of additional work on a satellite system that may soon carry high-speed Internet service.
Denver-based WildBlue Communications Inc. plans to launch that system. WildBlue's aim is to supply homes and small businesses in the United States with affordable broadband service by mid-2002. Canada and Latin America could follow. Customers would get on the system with a 26-inch rooftop satellite dish.
The two companies announced last week that ViaSat will develop and build satellite modem termination systems for all six of WildBlue's gateway earth stations.
Those systems provide the interface between the terrestrial Internet backbone and WildBlue subscribers. In short, they will manage the traffic for each subscriber satellite terminal.
Specific tasks will include:
- Allocating bandwidth to each subscriber.
- Directing traffic flow based on multiple classes of service.
- Managing the power and modulation formats to optimize data transmission over the satellite link.
The news follows ViaSat's March announcement that it received a $16 million initial contract to provide WildBlue with satellite modems. ViaSat's latest announcement predicts "seamless" system integration between those modems and the new equipment.
WildBlue envisions its service as an alternative to DSL or cable modem, and its publicity materials predict the service will be competitively priced.
Powering Up In Poway:
Electronics maker Cohu, Inc. has taken up residence in inland North County. Subsidiaries Delta Design, Inc. and Broadcast Microwave Services, Inc. have moved as well to the new corporate headquarters at 12367 Crosthwaite Circle in the South Poway Business Park.
In a press statement, President and CEO James Donahue said Delta Design , which makes integrated circuit test handling equipment , had expanded its Kearny Mesa operations into four buildings. Cohu can consolidate operations in the Poway facility and "more efficiently configure our manufacturing operations," he said.
"While conditions in the semiconductor equipment industry are currently depressed, our new facility provides us with ample space for future growth in our semiconductor equipment business when conditions improve," he added.
The move was effective June 25, according to Cohu's Web page, which also spoke of some typical moving headaches.
"Please bear with us as our new phone system gets up and running," it said.
- - -
Columnar Components:
San Diego-based Websense Inc. has announced its Web-filtering software is now used by more than 100 airlines, airports and aviation regulatory agencies worldwide. They include America West Airlines, Delta Airlines, the Federal Aviation Administration, Heathrow International Airport, London City Airport, Lufthansa, Sydney Airport and Thai Airways International. New customers include Athens International Airport, Austrian Airlines, San Jose International Airport and Virgin Atlantic Airways. The software prevents people from using company Internet terminals to access pornography, racist material or other material that management deems objectionable Technology Integration Group, the San Diego-based systems integrator and computer product reseller, has introduced two new divisions. One sells computer supplies and accessories, the other furniture. The latter is called ICE, short for Innovative Corporate Environments.
Send high-tech news to Graves via e-mail at bgraves@sdbj.com.